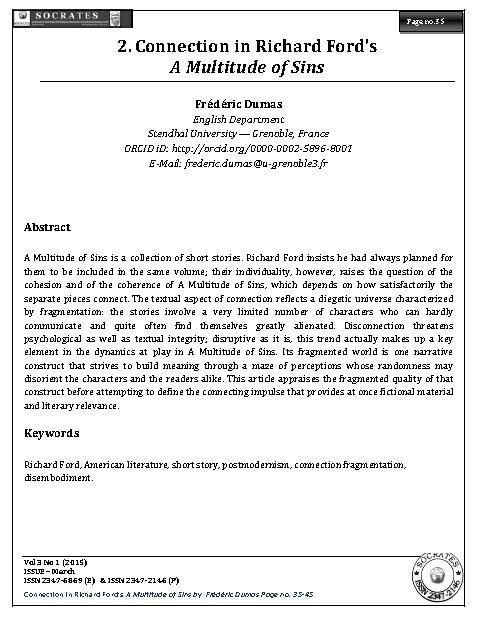 Connection in Richard Ford's A Multitude of Sins
A Multitude of Sins is a collection of short stories. Richard Ford insists he had always planned for them to be included in the same volume; their individuality, however, raises the question of the cohesion and of the coherence of A Multitude of Sins, which depends on how satisfactorily the separate pieces connect. The textual aspect of connection reflects a diegetic universe characterized by fragmentation: the stories involve a very limited number of characters who can hardly communicate and quite often find themselves greatly alienated. Disconnection threatens psychological as well as textual integrity; disruptive as it is, this trend actually makes up a key element in the dynamics at play in A Multitude of Sins. Its fragmented world is one narrative construct that strives to build meaning through a maze of perceptions whose randomness may disorient the characters and the readers alike. This article appraises the fragmented quality of that construct before attempting to define the connecting impulse that provides at once fictional material and literary relevance.
You'll get a 735.0KB .PDF file.