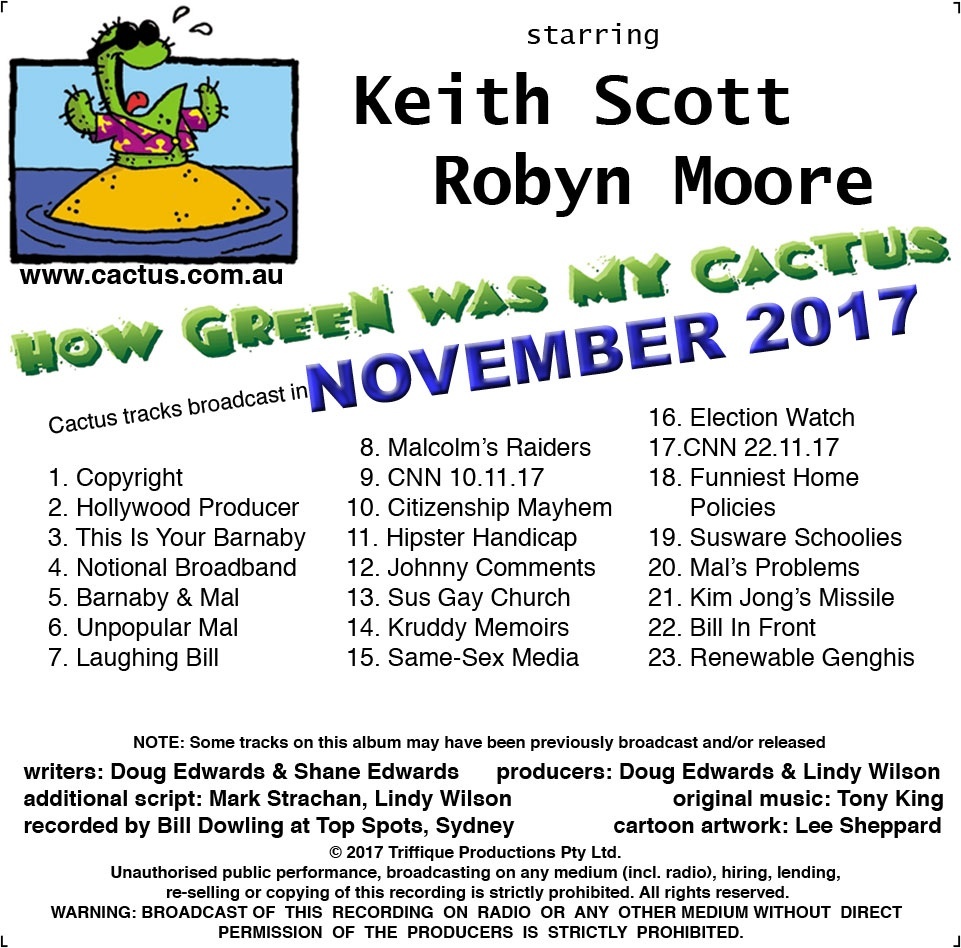 Cactus - November 2017
CACTUS - NOVEMBER 2017
TRACKS
1. Copyright: All material downloaded is copyright.Unauthorised public performance,broadcasting on any medium (including. radio),hiring,lending,re-selling or copying of this recording is strictly prohibited.All rights reserved. ©2017 Triffique Productions Pty Ltd
2. HOLLYWOOD PRODUCER: Eminent psychiatrist Sigmund Sheiserhousen treats a Hollywood producer, Harvey Creepstein, who lies on the couch face down through habit.
3. THIS IS YOUR BARNABY: National Party Leader Barnaby Joh appears on This Is Your Life. Learn how Barnaby was born head first and mistaken for a tomato.
4. NOTIONAL BROADBAND: Malcolm Talkbull, Prissie Pyne and Mathias Cormanegger explain their innovative slow high-speed national broadband network.
5. BARNABY & MAL: Dual citizen Barnaby Joh looks forward to the by-election he has caused, mainly because voting is the only time that many of his supporters have ever been near a school.
6. CACTUS CUP 2017: Political runners in the Cup include Tony Abs, the big-eared warhorse by Mad Monk out of 1950 and the blinkered hobbyhorse Cory Bananas by Gay Assassin out of Barking Mad.
7. LAUGHING BILL: Flopposition leader Bill Curly can't stop laughing since the High Court found dual citizen Barnaby Joh guilty of being stupid.
8. MALCOLM'S RAIDERS: Mal Talkbull asks the Federal Police to raid Bill Curly's office to find things that make Bill look bad – illegal donations, illegal downloads, unregistered dogs, anything.
9. CNN 10.11.17: Big Gazza Roidman reveals the new way to make greyhounds run faster. The dogs are chased around the track by a vet holding a thermometer. 
10. CITIZENSHIP MAYHEM: Cactus News reporter Mark Mayhem discovers the Greens are happy that Barnaby Joh will win back his own seat in the by-election he caused. They like to see rubbish being recycled.
11. HIPSTER HANDICAP: The next event on the card, ladies and gentlemen, is the Hipster Handicap, featuring champions like Big Bushy Beard, Buddy Holly Glasses and Decaff Skinny Quinoa Latte.
12. JOHNNY COMMENTS: Cactus Island's 80-y-o ex-PM John Hobbit denounces same-sex marriage, claiming that weddings are already colourful enough without replacing confetti with glitter.
13. SUS GAY CHURCH: Hey LGBTIQ folk! Want to get married but can't wait for the stupid government to make it possible?! The you need Susware's new Church of the Impatient Virgin!
14. KRUDDY MEMOIRS: Ex-Emperor Kevin Krudd's autobiography, The Humble Memoirs of a Genius, reveals that when he was born he had a breakfast cereal named after him, Special K.
15. 6646 SAME-SEX MEDIA: Ex-senator Jacqui Tacky hates same-sex marriage because it takes so many men out of the market. Well a gay man is better than no man at all.
16. 6647 ELECTION WATCH: Campaigning for re-election, Cane Toad County premier Annastacia Alphabet promises to stop the Adani coal mine, which will stop the Indian mynas, an introduced species.
17. 6648 CNN 22.11.17: New Greens senator Andrew Barfly suspects he may be a dual citizen because he keeps seeing two of himself in the mirror.
18. 6649 FUNNIEST HOME POLICIES: Pauline Hatful outlines her policies ahead of the Queenslandian election. If you're allergic to nuts, have your EpiPen ready.
19. 6650 SUSWARE SCHOOLIES: Hey schoolies! Finished your exams and want to let your hair down?! You need the new Susware Schoolies Week Fun Pack! Outsmart your oldies and go wild!
20. MAL'S PROBLEMS: Mal Talkbull learns that the Manus Island refugees have refused the deal to become American citizens. There's too much danger of being shot in America.
21. KIM JONG'S MISSILE: Foreign Affairs Minister Judas Bishop discovers that Kim Jong Nong plans to bomb Brisbane and Melbourne. But not Sydney because it looks like it's been bombed already.
22. BILL IN FRONT: Opposition Leader Bill Curly leads the polls, despite having done nothing to earn his lead. Bill argues that, "Julia and Kruddy did things and look what happened to them."
23. RENEWABLE GENGHIS: Radio talkback genius Genghus Porkbun ridicules renewable energy and to prove his point talks to the nation's foremost expert on energy, ex-PM Tony Abs.
COPYRIGHT: All tracks and material ©2017 Triffique Productions Pty Ltd. All rights reserved. All material downloaded is copyright. Unauthorised public performance, broadcasting on any medium (including. radio), hiring, lending, re-selling or copying of this recording is strictly prohibited. All rights reserved.
You'll get a 45.8MB .ZIP file.
More products from doug_e