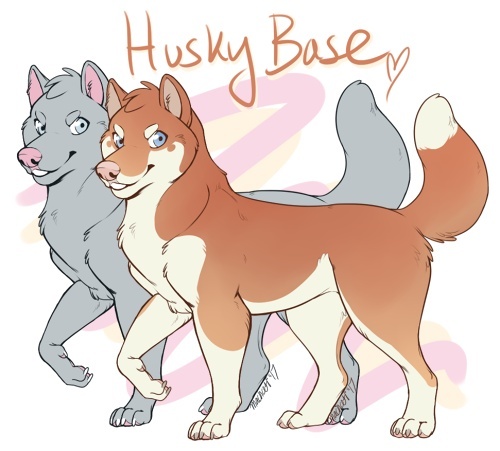 Husky Base
830x750 (72DPI), comes with both .PSD and .SAI files of base. Comes with just the base shown (does not come with red husky example), with layers separating the smaller details of eyes, nose, pawpads, claws, etc from the rest of the body for easier coloring. There are NO additional ear/tail types or anything like that; what you see in the example is what it is; a simple husky base :) 
Please read the rules, they shouldn't be too hard to follow, and have fun making huskies! 
---
RULES!


Do not resell the base as-is; only adoptable designs you colored.


You are allowed to make your own characters, gifts or adoptables (even for selling for real currency, go nuts!) 


You are allowed to edit this base as you please to suit your designs. Can be SFW or NSFW, can crop to make an icon of your design. 


You are welcome to share this with your friends freely, but NOT with the general public/the entire internet.


Please do not claim you drew the lines/other obvious 'do not steal' rules.


I do not give refunds, but if you have any strange problems with the sai file glitching or something, feel free to contact me (machati on DeviantART, machati_sama on Twitter are where I respond the fastest) 


---
You'll get a 2.6MB .ZIP file.
More products from Machati Selling Art Things!