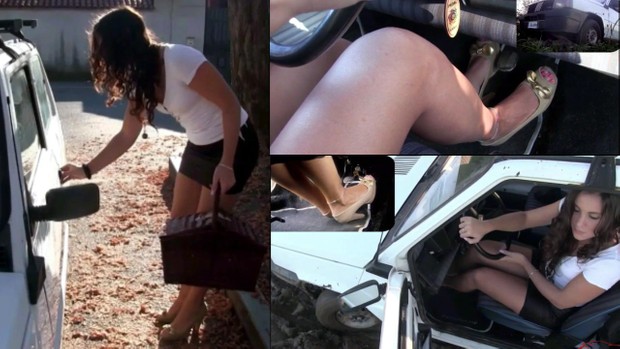 115 : Miss Iris stuck in the mud
Miss Iris is going to have a picnic with her boyfriend in the countryside. They both agreed to meet there, as the place is between her home and his one.

Iris is wearing a sexy black and white dress and heels.

She enters in the car with her picnic basket and drives to the meeting point with her beloved Panda.

When she arrives there, her boyfriend calls Iris telling her that he couldn't come, so she becomes sad about that.
She replies that she will have lunch alone, if she will ever arrive at the meeting point...

She continues driving to this amazing place in the countryside, thinking about the relaxing lunch she will have, just surrounded by birds and the amazing smells and sounds of the countryside... but at a certain point that road becomes so muddy that she has some troubles to not stuck there...

She has to fight a lot, pumping the gas and the clutch so much, to continue driving!

At the end she is stuck and the battle between her, the panda and the mud begins....

With two cameras, you can watch the video looking at her face struggling or hearing the engine roaring, and you can even constantly see her feet pumping the pedals for the whole video, as there is a second camera pointing at them!

Will she ever win this battle? Will she come to the meeting and eat all alone?
You'll get 1 file (733.1MB)