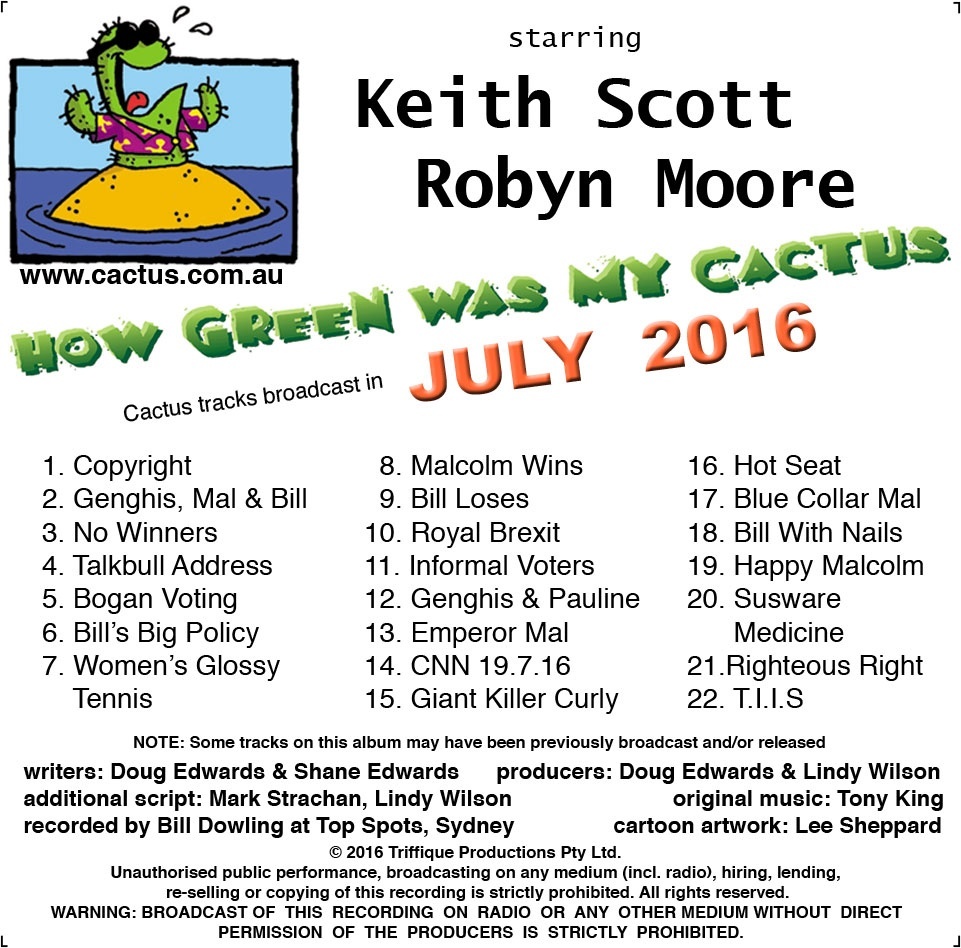 CACTUS - JULY 2016 (all tracks)
DESCRIPTION
CACTUS - JULY 2016 TRACKS 1. Copyright: All material downloaded is copyright.Unauthorised public performance,broadcasting on any medium (including. radio),hiring,lending,re-selling or copying of this recording is strictly prohibited.All rights reserved. ©2015 Triffique Productions Pty Ltd 2. GENGHIS, MAL & BILL: Radio talkback guru Genghis Porkbun talks to Mal Talkbull and Bill Curly about the election. The polls are closer tha Clive Palmer's thighs. 3. NO WINNERS: Big Gazza Roidman presents his post-match wrap-up from the Tally Room Stadium. The election is a draw at full time, but Bill Curly thinks he might win in extra time. 4. TALKBULL ADDRESS: The National CEO Malcolm Talkbull regails us with stories of his past, like hiring out the Taj Mahal for a Hawaiin party on his 50th birthday. 5. BOGAN VOTING: Davo Bogan is spewin' because he's been fined for not voting at the election. Davo can prove that he did vote - he still has the polling booth pencil under his beanie. 6. BILL'S BIG POLICY: Flopposition leader Bill Curly's new policy is to lower the voting age to 16. Anthony Albo is not sure it's a good idea to give the vote to people who listen to Justin Beiber. 7. WOMEN'S GLOSSY TENNIS: In this week's Women's Glossy, tennis tennis tennis! Maria Sharopova opens up on her drug ban hell! She only took the drugs to cure a torn grunt muscle! 8. MALCOLM WINS: Queen Bessie of Buckinghuge Palace phones to congratulate Malcolm Talkbull on his election win. Mal marvels at how clear the line is, coming from two centuries away.  9. BILL LOSES: Bill Curly's Labor Party colleagues blame him for losing the election. His strategy of being perpetually boring to differentiate himself from Malcolm Talkbull just didn't work. 10. ROYAL BREXIT: At Buckinghuge Palace, the Royal Family discusses Britain leaving the European Union after 40 years. Prince Charles hates it – he only just learned to say bonjour. 11. INFORMAL VOTERS: Cactus News super gob Mark Mayhem investigates informal voting. He discovers that voting papers with drawings of genitalia on them are actually votes for Pauline Hanson. 12. GENGHIS & PAULINE: Born again senator Pauline Hatful explains to Genghis Porkbun that our nation is the only non-foreign country in the world. 13. EMPEROR MALCOLM: The host of 7.30  Leigh Nails talks to Emperor Malcolm after he's won the election. That's him there, grinning like a lawyer in an ambulance. 14. CNN 19.7.16: In showbiz, James Packets and Mariah Corkers find it hard to keep their pre-nuptial vows of chastity - James's wallet keeps pulling his pants down. 15. GIANT KILLER CURLY: After the election, Bill Curly's Labor colleagues congratulate him on the brilliant way he opposed Mal Talkbull. They didn't even think that Bill had opposable thumbs. 16. HOT SEAT: Eddie Maguire's first guest on Hot Seat's Sports Celebrity edition is Rugby League player Billy 'Mad Dog' McPig. Billy finds the questions harder than those asked in court. 17. BLUE COLLAR MAL: Cactus Island's CEO Malcolm Talkbull wonders why the patrons of the Busted Arms Hotel are called blue collar workers when they have no neck for any collar at all. 18. BILL WITH NAILS: Leigh Nails, host of 7.30, attacks Labor leader Bill Curly over his election scare campaign. Bill had claimed that Malcolm Talkbull would sell Medicare to Clive Palmer. 19. HAPPY MALCOLM: Emperor Malcolm Talkbull is celebrating his election victory with Lucy, but the One Nation Party's Pauline Hatful causes happiness interruptus.  20. SUSWARE MEDICINE: Hey guys! Hey girls! Feeling down?! Out of sorts?! Then you need Susware Pseudopharmical natural medicines! Royal Jelly! Commoner Jelly! Derro Jelly! The lot! 21. RIGHTEOUS RIGHT: Liberal right wingers Tony Abs, Eric A'Putz, Cory Bananas and Concetta Thatcher-Palin are shocked that Mal Talkbull can talk about same-sex marriage without spitting. 22. T.I.T.S: Unimpressed by Flopposition leader Bill Curly's dithering, his colleagues want him to stick his head in an electric pencil sharpener so there's some point to his existence. NOTE: TRACKS ON THIS ALBUM MAY HAVE BEEN PREVIOUSLY BROADCAST AND/OR RELEASED. Copyright: All tracks and material ©2015 Triffique Productions Pty Ltd. All rights reserved. All material downloaded is copyright. Unauthorised public performance, broadcasting on any medium (including. radio), hiring, lending, re-selling or copying of this recording is strictly prohibited. All rights reserved.
You'll get a 43.6MB .ZIP file.
More products from doug_e