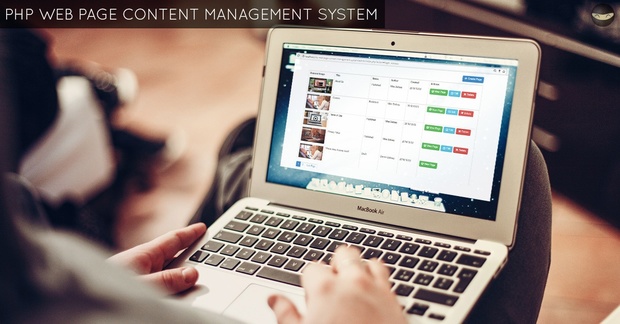 PHP Web Page Content Management System - Download Source Code
Source code download in ZIP.
Here are the list of features:


Learn more techniques when coding with PHP, MySQL and OOP


Save your precious time coding and searching about how to do the features below.


PHP PDO and Prepared Statements


jQuery enabled


Bootstrap enabled


Font-awesome enabled


TinyMCE enabled


Buttons are displayed with appropriate icons


USER


Login using email and password


Log out user


Hashed password stored in database


Logged-in user name display on the right side of navigation bar


Log-out button displayed on drop-down when user name was clicked


Page can be edited and deleted by the user who created it


When user tries to edit a page he did not created, he will be redirected to home page


'View Page' nagivation bar will show 'Admin' if user is logged in, else it will be a link to login page


CREATE A PAGE


Title field


Title is shown as page title when shared on Facebook


Slug field


Slug must be unique (validated when form was submitted)


Slug is formatted automatically via JavaScript when form not yet was submitted


Slug is formatted automatically via PHP when form was submitted


Fill out slug field automatically while you type


Fill out slug field automatically when title field loses focus


Body field


Rich text editor using TinyMCE (like WordPress)


Upload and browse files using a file manager


Format your content with links, texts, images and more.


Meta Description field


Meta Description is shown as page description when shared on Facebook


Featured Image field


Featured Image is shown as page image when shared on Facebook


Featured Image allowed file types: JPG, PNG, GIF


Featured Image must be less than 1MB in size


Save Featured Image file in server directory


Status field


Page 'Status' can be 'Draft' or 'Published'


Button link to read pages


Only a logged in user can create a page, else he will be redirected to login page


READ PAGES


Display list of pages


Featured Image column


Title column


Status column


Author column


Created column


Actions column


Featured images can be clicked and shown in a lightbox


View page button to view page content


Edit button to update page content


Delete button to delete page content


Clicking 'Delete' button will show confirmation pop up


Edit and Delete button will appear only if the logged-in user created that page


Pagination for list of pages


UPDATE A PAGE


Read Pages button to go back to list of pages


Fields has almost the same features as the 'Create Page' section above, but the following are some differeces


View Page button to view page content


Fill out form fields with data from database (based on given page ID)


Show uploaded featured image (if any) under Featured Image field


'Remove Featured Image' button under Featured Image


Clicking 'Remove Featured Image' button will show confirmation pop up


Featured image can be clicked and shown in a lightbox


Highlight Bootstrap radio button based on selected 'Status'


'Slug' field is not fill out automatically when 'Title' field was changed. This is because it is not recommended to change a page URL.


DELETE A PAGE


Clicking 'Delete' button will show confirmation pop up


If user clicked 'No', pop up will disappear and nothing will be deleted


If user clicked 'Yes', it will post page ID to delete_page.php so it can be deleted


SEARCH PAGES


User can enter search term in search box, then press enter to search


System will search page title, slug, body and meta description for the search term


Display list of pages with the search term


Pagination in search results


VIEW PAGE


Show page title


Show featured image


Clicking featured image will show it in a lightbox


Show page content / body


All images in the body can be clicked and shown in a lightbox


Show author and date created


Show share buttons with icons


Users can share the page to Facebook, Twitter or Google+


'Edit This Page' button will appear under 'Title' if user is logged in


SEO-friendly URL. Page URL does not have parameter like page ID. Page content is retrieved by slug.


Used Apache .htaccess file to make SEO-friendly URL work


Select 'Published' pages in navigation drop-down


UPDATES AND SUPPORT


Free source code updates for 2 years


Free support for 6 months


View more details of this source code here:
https://www.codeofaninja.com/2016/07/php-web-page-content-management-system.html
Kind Regards,
Mike Dalisay
Software Developer
Founder and Author,
codeofaninja.com
You'll get 1 file (6.7MB)
More products from Mike Dalisay