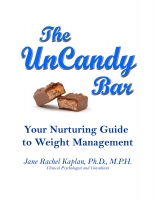 The UnCandy Bar
Are you frustrated with your weight management efforts? Do you wonder about the psychological side of your eating?

The UnCandy Bar ebook, a sweet weight management treat, helps you understand the emotional ways you use food.

The UnCandy Bar is divided into delicious "ingredients", or chapters. Each involves you in an experience with a useful way to nurture yourself without sweets. You'll find a wealth of concepts, ideas and tips that can accelerate your progress in weight management. Nurture and restore yourself with the The UnCandy Bar.

Download and read it instantly for just $5.00.

You'll get a 1.7MB PDF file.