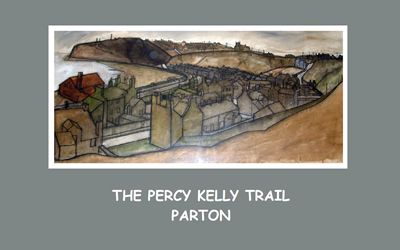 Parton Trail
Parton is a hidden village. It crouches between the shore, the railway and steep cliffs. It can't be seen from any of the roads into Whitehaven and has been overshadowed by that town over centuries.

Percy Kelly was painting and drawing here from the fifties when he returned from war service and was reluctantly directed back into working for the Royal Mail and given more responsibility. This left him little time for art so he became depressed and eventually resigned taking over a sub post office and general store at Great Broughton leaving his wife Audrey to do most of the work while he escaped to paint. This was a time of huge development in his work and we see here the difference between the early watercolours and the growing confidence and bold, steady lines of sixties work.

It is easy to see why Kelly would find Parton attractive. The curve of the railway, the juxtaposition of the higgledy piggledy houses and the sinister church and Hall silhouetted on the skyline were suited to his style, palate and mood.
You'll get a 1.3MB .PDF file.