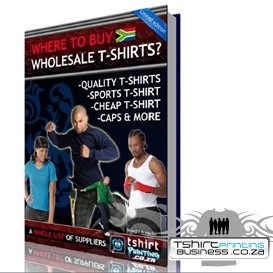 Where to Buy Wholesale T-shirt in South Africa Ebook by tshirtprintingbusiness.co.za
Where to Buy Wholesale T-shirt in South Africa Ebook by
tshirtprintingbusiness.co.za
This ebook contains The BEST wholesale t-shirt suppliers in South Africa.You will NOT find these guys by just googling wholesale tshirts. NO, these are the big boys who sell the best shirts in South africa. 
Some are TRADE ONLY and do not want to be bothered by random people googling them..
This ebook also shows you how to open an acc with various suppliers quick and easy.
it recommends who are the best and the easiest to get shirts.
Some of these suppliers are on google, but are extremely hard to find if you don't know their brand name.
I created this ebook for entrepreneurs in South Africa who just need that kick start to find out 
Where to Buy Wholesale T-shirt in South Africa
.
With over 10years in the industry you can trust this is worth it and on top of this, you may email any time for mentor ship questions or any t-shirt printing relating questions you have and have no one to ask for advise !!!
how's that !
You'll get 1 file (20.9MB)