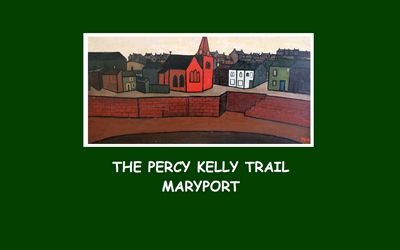 Maryport Trail
Kelly was fascinated by harbours and boats. His paintings and drawings are linear, deceptively simple and satisfying. Maryport with its geometric grid pattern and harbour views appealed to his sense of balance and design. It became one of his favourite places to work. He discovered it as a boy when he cycled up the coast from his home town of Workington. It was a place to which he constantly returned because it offered so much material on which to base his drawings. He saw the town with an artist's keen eye. He had no time for irrelevant detail. He wasn't interested in making a photographic record. He wanted to make a picture.

Maryport has seen many changes in its development from a fishing creek in Roman times through rapid development in the industrial revolution and decline in the depression in the twentieth century.

We can see and compare these changes on the walk as we see them through the eyes of Percy Kelly, one of the most talented Cumbrian artists of the Twentieth Century.
You'll get a 1.4MB .PDF file.