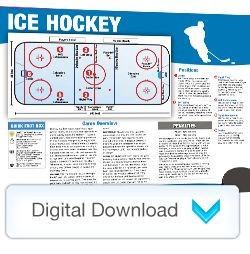 Digital - Sports Mini Poster Ice Hockey
:Digital Edition:
This colorful downloadable digital mini poster depicts the rink, player positions, along with a brief description on the duties of each position, a game overview, types of penalties, and other key components and facts about the game. Designed as an educational tool, this poster will foster a better understanding of ice hockey and it's rules. Perfect for enthusiasts, educational institutions, sports teams, etc.

Requirements:
Software Supporting Adobe PDF
1 page full colour optimized for 8.5 inch by 11 inch

:Advantages with our Digital Series:
*No Shipping Charges get your download after you pay
*Cheaper
*Printable
*Better for the Environment
*You can view them on a pdf supported media player or supported Phone
*Small file size

Our digital Ice Hockey overview poster is perfect to gain an easier understanding of the sport by clearly displaying player positions, rules of the game and facts on how to play this popular sport. Perfect for high schools, sports teams and enthusiasts.

You'll get 1 file (198.4KB)
More products from Productive Fitness