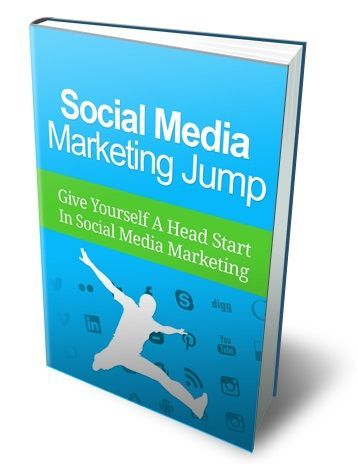 Social Media Marketing Jump
Give Yourself A Head Start In Social Media Marketing

ATTENTION: Internet Marketers Looking For More Success?

"Discover The 10 Secrets On How To Give Your Money Site The Steroids It Needs!"

Drive Targeted Prospects To Your Site Using The Power Of Social Media

How Do You Grow Your Business Via Social Media?

It all starts with being active on the social networks that matter and never let the customers forget about you. But that's just a start. Social media marketing is about communicating with your target audience, informing them about your business, and eventually getting them involved.

Luckily, I've written a guide to help you in this area.

Let me present to you...

Social Media Marketing Jump: Give Yourself A Head Start In Social Media Marketing

A few steps explored in this report are:

Developing a Strategic Plan
Choosing the Platforms that Matter
Stirring the Interest of Your Audience
Building a Social Media Community
Blogging
Engaging Your Audience

In this report, you will learn more about each of the following social media platforms:

Facebook
YouTube
Twitter
LinkedIn
Google +
Pinterest

And there's more!

Here are the important things you need to know and WILL discover in this report:

*Know how social media marketing can boost your site's search engine rankings.

*Learn how to harness the power of Social Media to drive traffic to your blog or your money site.

*How to have better linkbuilding results with social media

*How to increase brand awareness with social media Learn how to increase your social media clickthrough rates

*And everything else you need to know about social media marketing


Your License

Personal use rights only. It can not be re-sold.

Notes:

*This product comes with NO warranty or guarantee of any kind.

*The author and distributor hereby disclaim all liability for the use of this product. You accept all responsibility by using/selling it.


P.S. You've got nothing to lose in this investment. You will only miss 100% of the shots you don't take. Don't make the same mistake of those who
close this page and miss out on a tremendous opportunity!

You'll get a 296.9KB .PDF file.
More products from Smart Life Skills