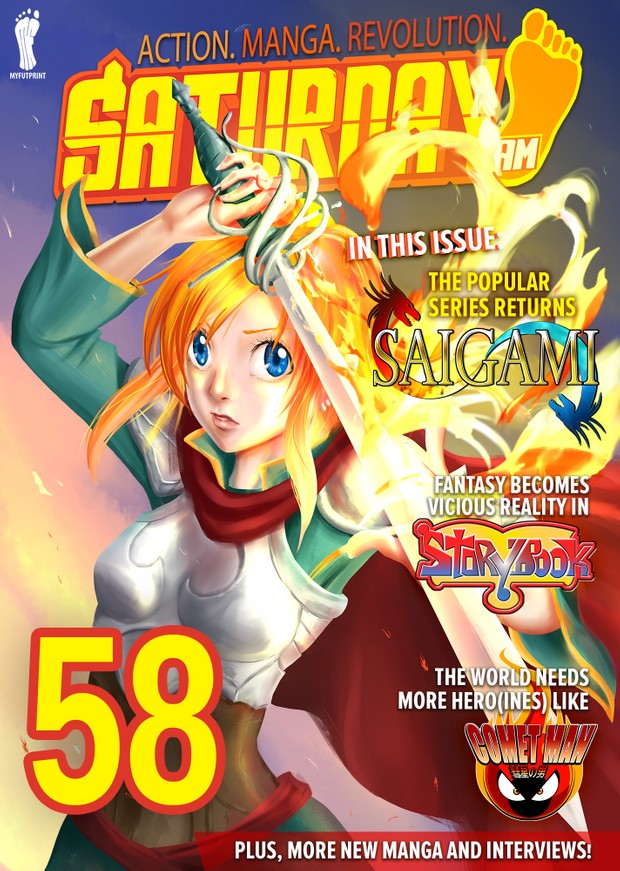 Saturday AM #58
SATURDAY AM #58 is here to kick off CHRISTMAS SEASON and what better way to do so than with the HOTTEST EXCLUSIVE and ORIGINAL SHONEN MANGA WEBCOMICS ONLINE??

Our HIT CORE SERIES, SAIGAMI, leads this issue's proceedings with another GORGEOUS COVER by Andrea Otilia Voros! If you like shonen shoujo hybrids as well as amazing kick-ass heroine fantasy like Legend of Korra and/or Inuyasha then you must try this amazing series!

The issue also contains:

Another of our CORE MANGA series: BULLY EATER by Raymond Brown

Our newest manga title: BETTER OFF IGNORANT by Otutuloro and Healy

MONSTER BLUE by Jackson and Ljumani

STORYBOOK by Andrew Sterling

and COMETMAN by Frederick Ward

That's not all!

TWO GREAT INTERVIEWS cap off this extraordinary issue:

INSTAGRAM DISCOVERY with the coolest named creator ever ----BULLETPROOF TURTLEMAN!

And, for WRITERS -- we haven't forgotten you! This issue's BIG EXCLUSIVE INTERVIEW is with J NOVEL CLUB founder Samuel Pinansky! 
You'll get 1 file (121.1MB)
More products from Saturday AM