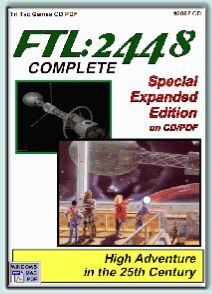 TTG#2093 FTL: 2448
http://tritacgames.com
FTL: 2448, Books 1 & 2 are a complete role playing game. Each of the books is 192 pages in length, and includes 30 different races, complete rules for generating new worlds and star systems, and much, much more.
While Book 1 concentrates mainly on character generation and skill selection, Book 2 provides the background data necessary for your campaign, including: Starships, Star Charts, Ship-Builder, Colony: 2448, Emergency Medical Rescue, Cop: 2448, Spacey Navy, Enemy Stars, Star Pirates, and a lot more!
You'll get a 33.1MB .PDF file.
More products from Tri Tac Games