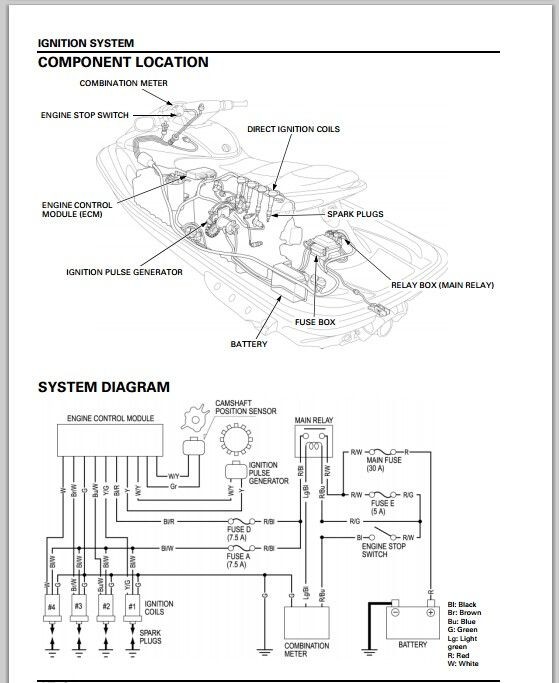 Honda ARX1200T3, ARX1200T3D and ARX1200N3 repair service manual
This is a very comprehensive and structured factory operator's manual for honda ARX1200T3, ARX1200T3D and ARX1200N3. This manual has been written in a format that is designed to meet the needs of bobcat 743 loader technicians worldwide. You will never be dissapointed with the quality and content of this workshop manual.

This service manual describes the service procedures for the ARX1200T3, ARX1200T3D and ARX1200N3. Follow the Maintenance Schedule (Section 4) recommendations to ensure that the personal watercraft is in peak operating condition. Performing the first scheduled maintenance is very important. It compensates for the initial wear that occurs during the break-in period. Sections 1, 4 and 5 apply to the whole personal watercraft. Section 3 illustrates procedures for removal/installation of components that may be required to perform service described in the following sections. Section 6 through 19 describe parts of the personal watercraft, grouped according to location. Find the section you want on this page, then turn to the table of contents on the first page of the section. Most sections start with an assembly or system illustration, service information and troubleshooting for the section. The subsequent pages give detailed procedures. If you are not familiar with this personal watercraft, read Technical Features in Section 2. If you do not know the source of vehicle trouble, go to section 21 Troubleshooting.

CONTENTS:

GENERAL INFORMATION
MAINTENANCE
FLUSHING AND STORAGE
LUBRICATION SYSTEM
COOLING SYSTEM
FUEL SYSTEM (Programmed Fuel Injection)
ENGINE REMOVAL/INSTALLATION
CYLINDER HEAD/VALVE
ALTERNATOR/STARTER CLUTCH
CRANKSHAFT/BALANCER (ARX1200T3/T3D)/
PISTON
EXHAUST SYSTEM/
TURBOCHARGER (ARX1200T3/T3D)
PROPULSION SYSTEM
STEERING/REVERSE SYSTEM
BATTERY/CHARGING SYSTEM
IGNITION SYSTEM
ELECTRIC STARTER
METER/SWITCHES
WIRING DIAGRAMS
TROUBLESHOOTING
BODY
ELECTRICAL
HULL/HOOD/BODY PANELS
TECHNICAL FEATURES
ENGINE
INDEX

Every part of this car is covered!!!

PDF format enables you to print all, any or only the pages you need.

Manual can be printed out easily in full or only sections you wish to print and use. Lots of pictures and diagrams at your fingertips!!

Email delivery means no need to wait for your manual or pay for shipping.

You'll get 1 file (19.0MB)