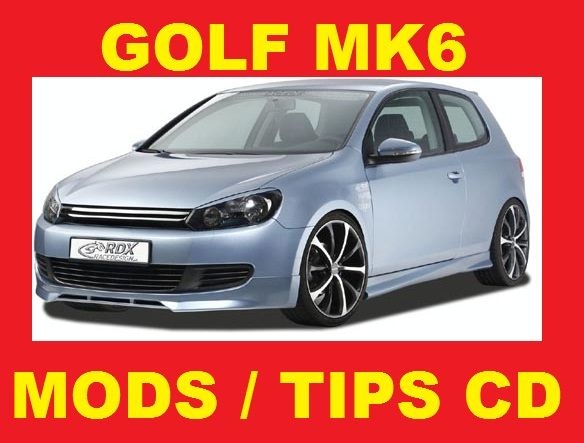 ►► DEDICATED VW GOLF MK6 MKVI GTI TURBO TDI GT MODIFICATION GUIDES TIPS MANUAL
VW GOLF MK6 MKVI GTI TURBO TDI GT MODIFICATION / GUIDES / TIPS
If you own a MK6 Golf then this download Guide has been put together for you, Guides for doing mods and tips to keep your Golf running. A nice collection of guides by enthusiasts from changing the oil to putting performance brakes on your MK6, most guides have photos. Plus VW software that has install / setup instruction plus extra things you can do for your mk6 ;-)
If your a MK6 owner then we hope you wont be disappointed with the all new MK6 Golf Guide.
The Guides / Manuals & Tips are all pdf format and all are listed below:
Performance Brake System Fitting Guide
Audi S3 Intercooler on MK6 GTI
Activate reset or swap the TPMS system
AS-7608 head unit in MK6
Audi gear Knob and Boot Install
Bleed the clutch and brake fluid
MK6 2.0 Litre TFSI engine Self Study Programme
Xenon Upgrade Guide
Bluetooth installation manual
How to fit a Boost gauge to your mk6
Carbon fiber Interior trim wrap
Climatronic Diagnostics
DSG-02E-Gearbox 40k Maintenance Guide
EGR cooler removal
Fit Forge Blow off adapter
Fit Under Seat Storage Tray
Fuse location diagram
Golf MK6 UK Brochure
How to disable TPMS
How to fit a boost gauge 2
Mass air flow sensor MAF TDI
MK6 Intake install fitting
Mk6 LED taillights fitting guide
MK6 Rear Trailing Arm bushings fitting
Multifunction display (MFI or MFD) settings
Oil & Filter change GTI
Removing the standard intake
Replace your Mk6 front wheel bearings
Gearbox Short shift fitting guide
Stealth Box - Sub & Amp Box install in MK6
Subframe Collar fitting info
Fitting a GTI exhaust to a TDI MK6
Tow bar fitting instructions
Turbo swap guide APR K04
What is VAG COM VCDS
MK6 Vag Com Tweaks Revised for 2013
MK6 VAG COM Tweeks
VCDS Emergency Brake Flashing via Brake Lights
VCDS Hill Hold Control (HHC)
VCDS opening & closing window via remote
VCDS-805-Manual
The all new MK6 Golf Guide is pdf based and the menu is driven like a web page (very easy), Pages can be printed out if you so wish.
VW Software
The software will allow you to communicate to the car via your laptop & a OBDII cable,
Full information is in the download including install & setup notes.
Some of the Software features are:
Module Version - ID of control module coding version
DTC Memory - read and clear diagnostic codes
Actual Values - full live data access
Activation - supported component activation
Code Module - code supported modules
Adaptation - read/reset service light parameters, view/change block learn values
Basic Settings - view and change control module defaults (Ex 1.8T and newer)
Individual Values - read individual measuring values
Readiness Code - check status of emission related systems
Remote Control Programming - program RF (radio frequency) keys
Key Matching - match keys to immobiliser control module (5 digit)
Engine Diagnostics
Read & Clear ABS Faults
Read & Clear Airbag fault Codes
Clear DTC (error) code, over 7500 DTC codes with description
Immobiliser / Alarm Systems
Reset Service lights
Automatic Transmission
Car Stereo System
Central Locking System
Included software (which you can also download free) does NOT come with a full version license. Hence while the software will still read significant data from your vehicle — some of it's more advanced features will be locked. And you can unlock them by registering the software.. We don't have time to offer support on software but Google is your friend. You will need your own cable to use this software. Full driver and software setup instructions are included in the download.
All your Guides and manuals will come in one download that has been zipped up using winrar, YOU WILL NEED TO UNZIP TO VIEW THE FILE.
►►► If you don't have unzipping software you can download below
http://www.rarlab.com/download.htm
►►► If you don't know how to use winrar see this youtube video
http://www.youtube.com/watch?v=vzW3EjTnOKs
PAYMENT IS VIA PAYPAL SO YOU PURCHASE IS PROTECTED
You'll get 1 file (75.3MB)
More products from Guides And Manuals - PDF DOWNLOAD WORKSHOP SERVICE REPAIR PARTS