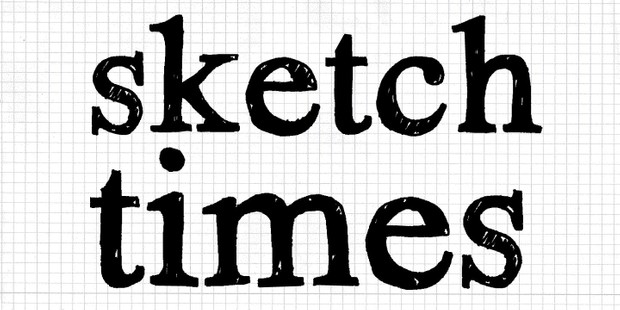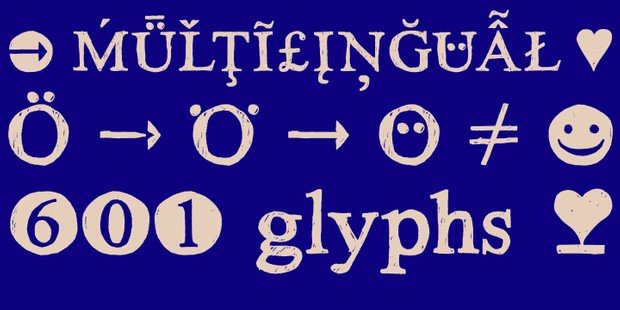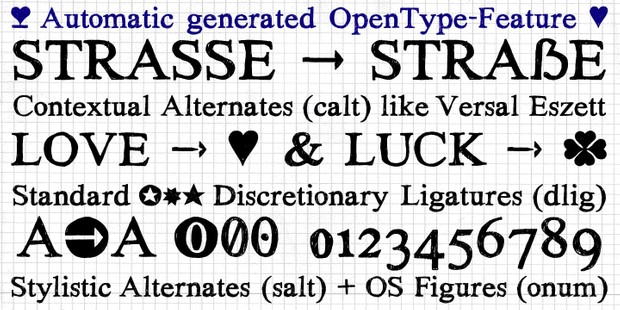 Font | Hand Scribble Sketch Times
"Hand Scribble Sketch Times" is a type­face with state-of-the-art OpenType-Feature (like Con­text­ual Alter­na­tes (calt) and Sty­listic Alter­na­tes (salt)). Each upper­case and each lower­case let­ter has auto­ma­ti­cally alter­na­ted two varia­ti­ons to bring humanly-random cha­rac­te­ristics of hand­wri­t­ing to life.
The cha­rac­ter of the rough, rug­gend and raw hand­written clas­sic serif type­face is a very uni­que warmly atmo­s­phere.
■ Font Name: Hand Scribble Sketch Times
■ Font Weights: Regu­lar
■ Font Cate­gory: Grunge Serif Dis­play for Head­line Size
■ Dektop-Font: OTF (Open­Type Font for Mac + Win) + TTF (True­Type Font)
■ Web-Font: SVG + EOT + TTF + WOF
■ Font License: Desk­top license, Web license, App license, eBook license, Ser­ver license
■ Glyph cover­age: 601
■ Lan­guage Sup­port: Alba­nian, Alsa­tian, Ara­go­nese, Ara­paho, Aro­ma­nian, Arr­ernte, Astu­rian, Aymara, Bas­que, Bis­lama, Bos­nian, Bre­ton, Cebuano, Cha­morro, Che­yenne, Chi­chewa (Nyanja), Cim­brian, Cor­si­can, Croa­tian, Czech, Danish, Dutch, English, Esto­nian, Faroese, Fijian, Fin­nish, French, French Creole (Saint Lucia), Fri­sian, Fri­ulian, Gali­cian, Genoese, Ger­man, Gil­ber­tese (Kiri­bati), Green­lan­dic, Gua­rani, Hai­tian Creole, Hawaiian, Hili­gaynon, Hmong, Hopi, Hun­ga­rian, Iba­nag, Iloko (Ilo­kano), Indo­ne­sian, Inter­g­lossa (Glosa), Inter­lin­gua, Irish (Gae­lic), Islan­dic, Istro-Romanian, Ita­lian, Jèr­riais, Kas­hubian, Kur­dish (Kur­manji), Ladin, Lat­vian, Lithua­nian, Loj­ban, Lom­bard, Low Saxon, Luxem­bour­gian, Malag­asy, Mal­tese, Manx, Maori, Megleno-Romanian, Mohawk, Nahuatl, Norfolk/Pitcairnese, Nort­hern Sotho (Pedi), Nor­we­gian, Occi­tan, Oromo, Pan­gasinan, Papia­mento, Pied­mon­tese, Polish, Por­tu­guese, Pota­wa­tomi, Rhaeto-Romance, Roma­nian, Romansh (Rumantsch), Roto­kas, Sami (Inari), Sami (Lule), Samoan, Sar­di­nian (Sardu), Scots (Gae­lic), Sey­chel­lois Creole (Seselwa), Shona, Sici­lian, Slovak, Slove­nian (Slovene), Somali, Sou­thern Nde­bele, Sou­thern Sotho (Seso­tho), Spa­nish, Swa­hili, Swati/Swazi, Swe­dish, Taga­log (Filipino/Pilipino), Tahi­tian, Tau­sug, Tetum (Tetun), Tok Pisin, Ton­gan (Faka-Tonga), Tswana, Tur­kish, Turk­men, Turk­men (Lati­ni­zed), Tuva­luan, Uyghur (Lati­ni­zed), Veps, Vola­pük, Votic (Lati­ni­zed), Wal­loon, Warl­piri, Welsh, Xhosa, Yapese, Zulu
■ Spe­cials: Alter­na­tive let­ters, Ver­sal Eszett (Ger­man Capi­tal Sharp S), Stan­dard & Dis­cre­tio­nary Liga­tures, extras like sym­bols, ding­bats, Old-style Digits, Lining Figu­res, accents & €, incl. OpenType-Features like Access All Alter­na­tes (aalt), Con­text­ual Alter­na­tes (calt), Glyph Composition/Decomposition (ccmp), Dis­cre­tio­nary Liga­tures (dlig), Kerning (kern), Stan­dard Liga­tures (liga), Lining Figu­res (lnum), Old Style Figu­res (onum) Ordi­nals (ordn), Pro­por­tio­nal Figu­res (pnum), Sty­listic Alter­na­tes (salt), Sty­listic Set 01 (ss01), Sty­listic Set 02 (ss02), Sty­listic Set 03 (ss03), Tabu­lar Figu­res (tnum), Slas­hed Zero (zero)
■ Design Date: 2013
■ Type Desi­gner: Manuel Viergutz
Font Sample | YouTube
https://www.youtube.com/watch?v=3fg6QjPqGtM
More Information
http://www.typographicdesign.de/typography-font-hand-scribble-sketch-times/
You'll get 1 file (653.6KB)
More products from Typo Graphic Design