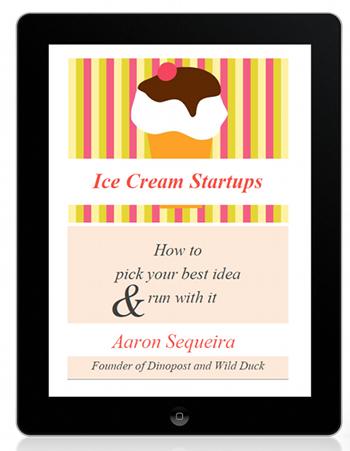 Ice Cream Startups: How to pick your best idea and run with it
Hi, I'm Aaron.
I began my journey in my startup world when I was 13. Some of the advice our startup received from investors were often contradictory, so I put together a list of the common elements that they seek to help us make better decisions and pitch our product. To investors, this list may help figure out a way to pick startup winners systematically and scale that method as suggested here:
http://www.technologyreview.com/news/428427/an-algorithm-to-pick-startup-winners
and here:
http://techcrunch.com/2012/04/02/yc-y-combinator-scaling/
It began as a whitepaper over the summer of 2012 and is now an 80 page PDF. I'm continuing to learn, so I appreciate any feedback and advice from my readers at my first name @brownieinmotion.ca.
Looking forward to hearing from you,
Aaron
You'll get a 876.4KB PDF file.