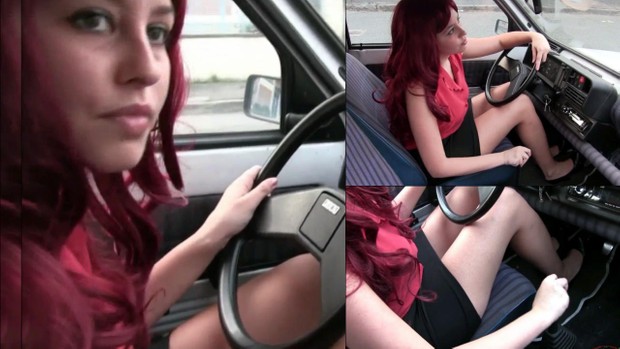 109 : Miss Melanie grinding gears with no mercy
This is the first day at a new office for Miss Melanie. She is heading to work and everything goes fine...until she notices that her car is giving her some problems.

She thinks it is just an occasional problem with the gearbox and it will fix automatically in the next seconds. So she just continue driving while trying to find which is the right road to the office, not caring about the problem.

After a while she arrives at the end of the road, and she has to drive backwards...Something easy normally... If the gearbox wants to! She is completely stuck at the end of a road, and there is nobody around willing to help such a beautiful red hair girl!

Miss Melanie struggles with the gear for 20 minutes circa while trying to put the reverse and go to work... "Oh c'mon, it's my first day! Work for me!I can't be late!" She says, while getting nervous as the time goes by, and she did almost 1 meter backwards... hehehe!!

As there is no one around, she can just continue trying until she will make it work! She use all her force while trying to put the reverse and go back, but the car just screams and tries to rebel and not to go into reverse! Such a shame...

While you will listen to this scream/crying from the gearbox, Melanie struggles so much that she almost loose her patience ;)

When Melanie can finally put the reverse, the stupid Panda engine stalls and she has to do everything again....

What a shitty day ... !!


You'll get 1 file (415.2MB)