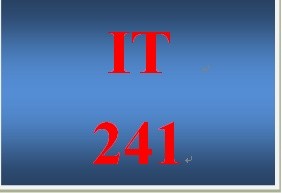 IT 241 Week 5 Floor Plan Site Survey
IT 241 Entire Course Link 
https://uopcourses.com/category/it-241/
IT 241 Week 5 Floor Plan Site Survey
Site surveys allow you to place access points in locations that provide an optimum signal without resorting to trial and error.
Conducting a site survey is a critical component of properly designing and installing a wireless LAN. Every building is unique; therefore, a network consultant should always do a thorough walkthrough to analyze signal strength and to identify any objects that might cause interference.
In this assignment, you will analyze five office floor plans. The data you gather will assist you in completing your final project. As you analyze each plan, consider what objects or materials affect the signal strength, why they do so, and what you can do to overcome their interference.
Resource:
 Ch. 15 of 
CWNA Certified Wireless Network Administrator Official Study Guide
;
Analyze 
the five floor plans in the Floor Plan Site Survey exercise located on the student website. Each plan has only one access point placed in the data center of each building. The location of the data center may not always be ideal for optimum signal coverage, so you will use this survey to determine where to place other access points as needed.
Complete 
Appendix E.
Post
 your assignment as a Microsoft® Word attachment.
Submit
 your assignment.
You'll get 1 file (18.6KB)
More products from UopTutorialStore