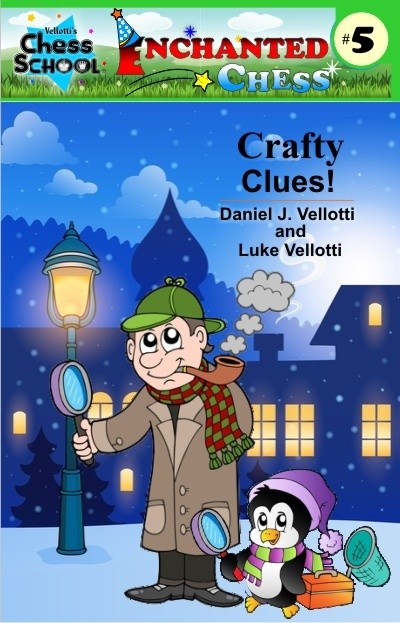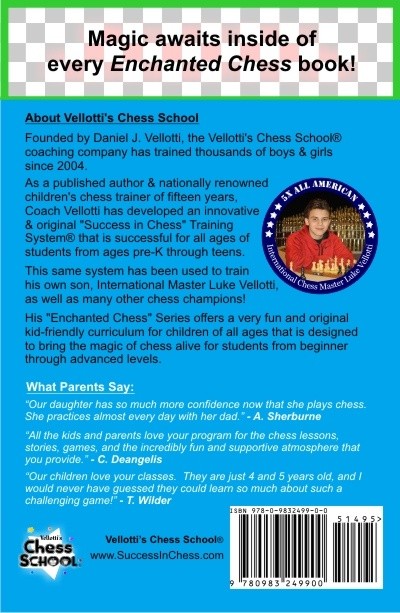 Crafty Clues! (Enchanted Chess) (Volume 5)
Get ready to find some Crafty Clues!
Grab a magnifying glass & pack your bags; You've got a mystery to solve! In Enchanted Chess Book 5, students will learn to think and play like Bobby Fischer, one of the greatest chess players in history.

Imagine...
You and your pet penguin, Splashy, are detectives! You've been assigned to search New York City until you find a missing little-genius, Bobby Fischer. Although he has disappeared, he left trail of his favorite chess victories across town.
Follow the chess boards, and consider the clues. Which move did Bobby play here: the Circle, Triangle, or Square?

Go quickly and don't stop until you find Bobby - the crafty Russian Grandmaster Boris Spasky is sneaking up right behind you!
Are you ready to test your chess skills with the best chess player who ever lived, and discover where he went?!

In the this book, What Would Bobby Fischer Do?, you must predict the superstar's next move. All of the positions are white to move and have been taken from actual games.

You are about to embark on a wonderful and enchanted journey as you guess the moves from hand-picked games played during Bobby Fischer's teenage years. Remember: He was only a boy when he began conquering the chess world!


About Vellotti's Chess School
Founded by Daniel J. Vellotti, the Vellotti's Chess School® coaching company has trained thousands of boys & girls since 2004.
As a published author and nationally renowned children's chess trainer of fifteen years, Coach Vellotti has developed an innovative and original "Success in Chess" Training System® that is successful for all ages of students from ages pre-K through teens.
This same system has been used to train his own son, International Chess Master Luke Vellotti, as well as many other chess champions!
His "Enchanted Chess" Series offers a very fun and original kid-friendly curriculum for children of all ages that is designed to bring the magic of chess alive for students from beginner through advanced levels.
You'll get 1 file (2.2MB)
More products from Enchanted Chess