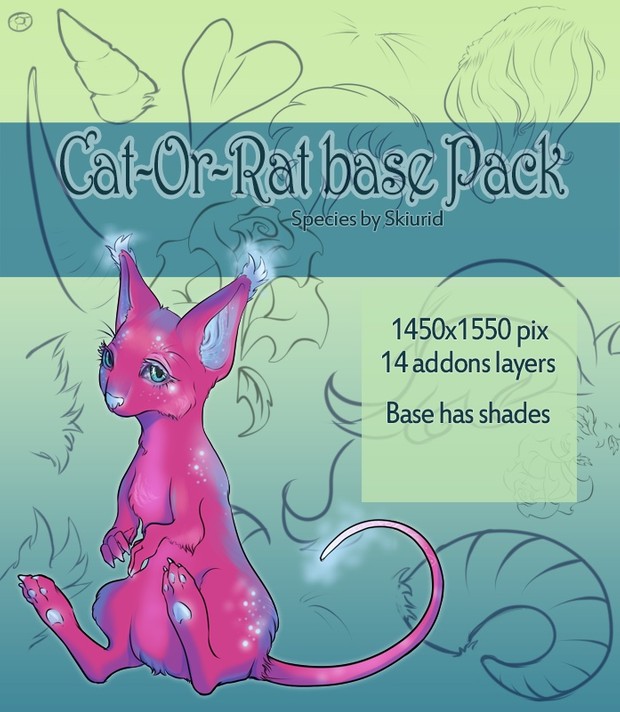 Closed Species Base - Catorat base Pack - Specie 1 [P2U]
SPECIES INFO

What is Catorat? It`s simple to name Catorat a hybrit of cat and rat, obviously. Was created by unknow (at this moment) mad scientist, but after an incident in the lab they run away and become free. Catorats are various medium-sized long-tailed creatures. They are omnivorous, but prefer meat-diet, especially, if they are big. Their body is covered in fur, their tail is long, smooth and very mobile. These species come in a range of colors, and some of them have the ability to change theirselfe on genetic level (but only 1 time!). When white catorat find something, they feel like soulmate thing, they become different. For example, white catorat can find beautiful rose and take her color, petals and thorns. After initiation its kittens will be the same or will take genes from both parents. White kittens are really rare. They are pearl-white color, so they called pearls. Catorats behavior have differences. They are smart, they can talk between each other (by purrs, snorting, squeak etc) and even have ability to understand other languages. They can use magic, if they have it, but this is epic rare. There is about 4-6 different species of catorats and I hope, I will soon make a big pack of information about them!
________________

Common: any color; no manes; can`t have not-organic parts in desigh; can`t have flowers\any other changes in this style on ears; can`t use magic; can`t glow.

Rare: any color; manes; can`t have not-organic parts in desig; can`t use magic; can glow.
________________

--+Content+--
+ base lines;
+ 13 addons layers;
+ 3 shades layers.

Download includes
+ .psd file 1450x1550

~Rules~
You can edit the base and add Accessories.
You can make only common and rare creatures. Description in the up.
You can make Adoptable/Ref/characters/comissions for USD or points!
Credit me back please and link for others to buy the base.
Thank you!
x Don`t resell or redistribute to anyone.
x Don`t claim as your own.
x Don`t trace or copy the base, please.
You'll get 1 file (4.0MB)
More products from Xaineko