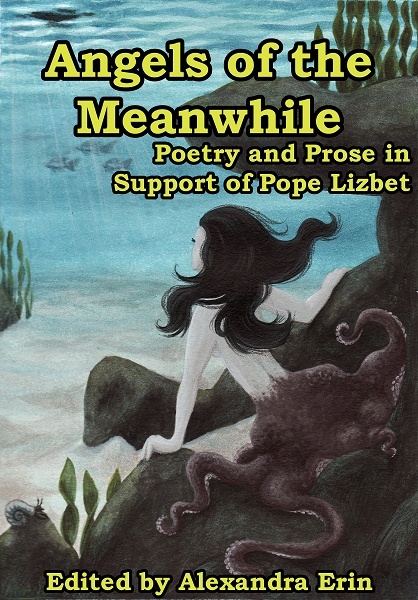 Angels of the Meanwhile
Angels of the Meanwhile is a one-of-a-kind anthology of poetry and prose edited by Alexandra Erin pulled together by some of the best genre poets and writers in order to help Elizabeth R. McClellan ("popelizbet") with expenses and lost income relating to injuries she suffered in 2015. Your package includes DRM-free copies in multiple formats: Kindle, EPUB, and PDF!

---
Table of Contents
---
Bits of Prose
---
This Is The Place Where Lost Things Go – Kythrynne Aisling
The Merry Knives of Interspecies Communication – Bogi Takács
Upon The Land, On The Sea – Sonya Taaffe
Foam – Dusti Morton
The Sweat of their Brows – Alexandra Erin
The Dirty Fairy – Deborah Walker
Beauty Sleeping – Ellen Kushner
---
Verse
---
Beastwoman's Snarled Rune – Rose Lemberg
Pain Shared Is Catching (For April Grant) – Erik Amundsen
Gorgon Girls – Saira Ali
This Is What It's All About – Lupa
Blodeuwedd – Amal El-Mohtar
Burning Wings (For C.S.E. Cooney) – Jennifer Crow
The Changeling Always Wins – Nicole Kornher-Stace
The Witch's Girl – Alexandra Erin
The First Wife – Lev Mirov
The Secret of Being a Cowboy – Catherynne M. Valente
Firstborn – Christina Sng
Children of the Faun and Fae – Merideth Allyn
Ivan Icarus – by C.S.E. Cooney
The Freeman's Dance – Jack Ralls
We Named Our Grief Irene – Virginia M. Mohlere
Fucking Doughnuts – Legoule
Allison Gross Speaks of the Worm – Gwynne Garfinkle
Sand Bags – Dominik Parisien
Hot Wet Mess – S.J. Tucker
Getting Winterized: A Guide to Rural Living – Elizabeth R. McClellan
Uncommon Law - Lisa M. Bradley
These Are Days – Roni Neal
lis pendens – Mike Allen
Thread Between Stone – Bryan Thao Worra
---
Prose Stories
---
The View of My Brother's Profile In The Rear-View Mirror – Randee Dawn
Inside, Looking Out – Alexandra Erin
Changed – Nicolette Barischoff
Fire Flight – A.M. Burns
The Legacy Box – Satyros Phil Brucato
Illusions of Safety – Angelia Sparrow
You'll get a 2.1MB .ZIP file.