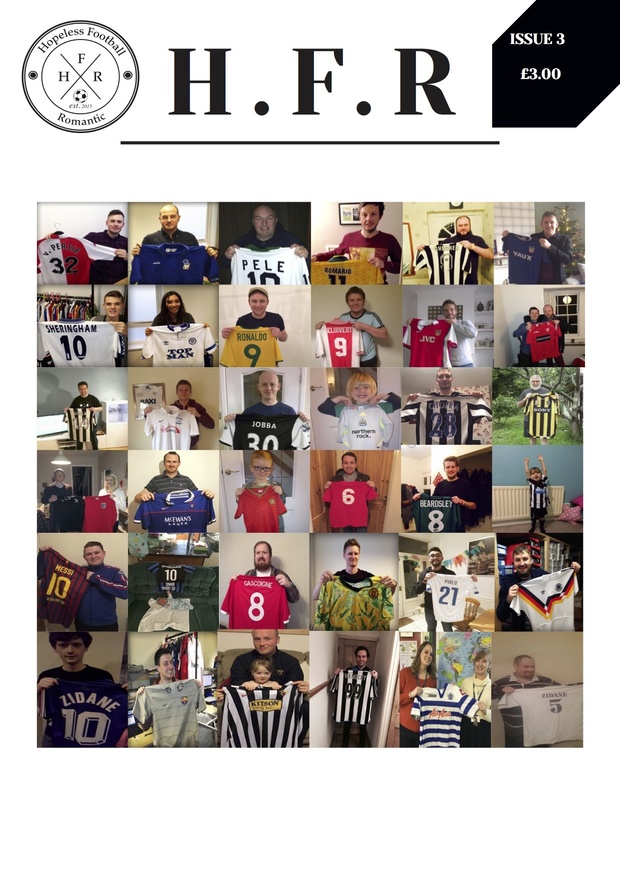 Hopeless Football Romantic Issue 3
Join us for Issue 3 of Hopeless Football Romantic..

This issue includes:

* Article upon article of intelligent debate, funny comment, varied opinion, and a good dosing of positivity on the game we adore.

* A Photograph Essay from our talented friend Przemek Niciejewski centred on his beloved Borussia Monchengladbach. His passion for capturing Football Culture imagery is unrivalled, and has greatly contributed not only to HFR, but other established football outlets. Be sure to check out his work!

*  Content touching on, Man City, European Adventures, Denmark's 1992 Euro Winning Team, Johan Micoud, Gerry Hitchens, Parma FC, The Relationship between Music & Football, Bradford City AFC, Trendy Non League, Tales of Sunday League - Player Recruitment, Is Non League a Hot Bed of Football?, The Death of Physicality, The Football League War Trophy, When Accumulators Go Bad, Andy (Andrew*) Cole and a Man's View of Woman's Football. 
LOADS FOR EVERYONE!

At HFR we will continue to provide a World Football magazine that differs from the norm. We will explore the unknown and unfancied, interview the forgotten heroes, and never ever shy away from sharing our unequivocal love for our game. 

Welcome back, 

We've missed you too, 

Stuart Mole
HFR Founder and Chief Editor.
You'll get 1 file (22.8MB)
More products from Hopeless Football Romantic