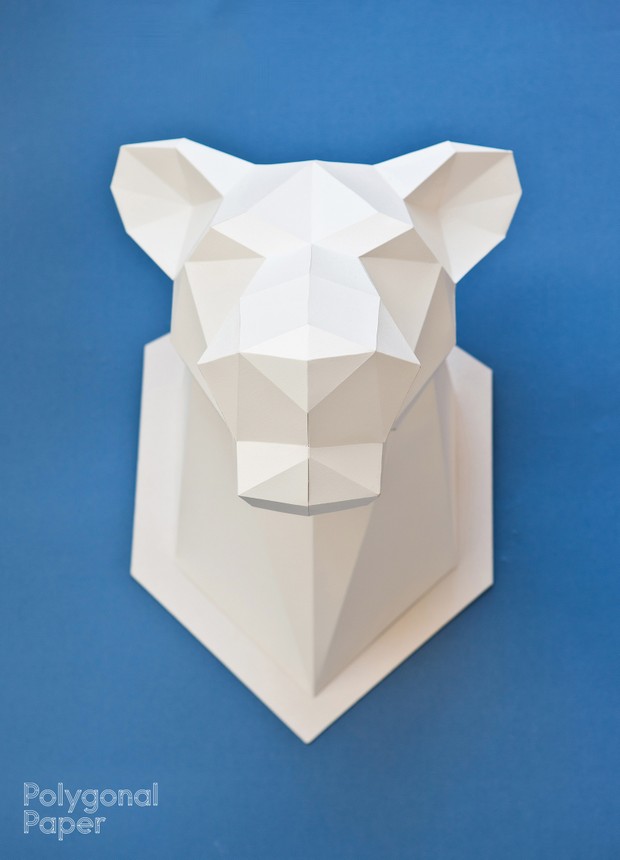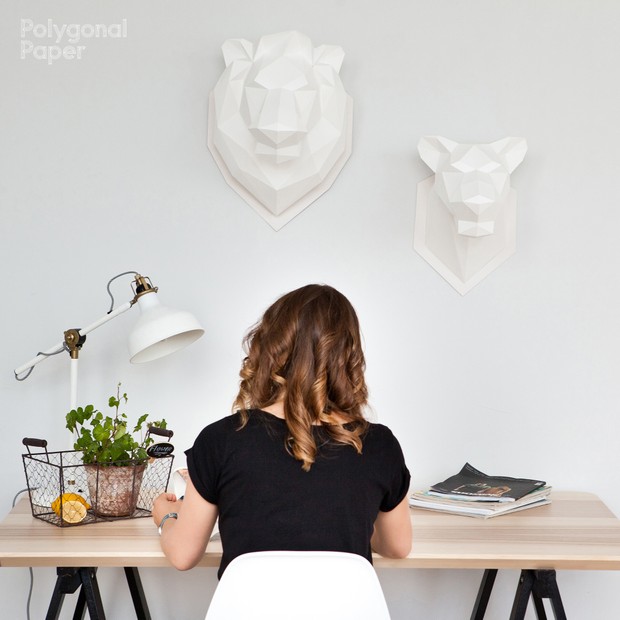 2D Lioness Head Template RUS/ENG/ESP/FRA
RUS/ENG/ESP/FRA
---
Файлы с развёрткой для самостоятельной склейки головы львицы.


Развёртка для печати на листах формата A4;


Развертка для печати на А3;


Развертка для печати на А1;


Подробная инструкция, в которой вы найдёте полезные советы по выбору материалов, а также пошаговую инструкцию к склейке модели.


Размер готовой модели из любого формата одинаковый - примерно 45 см. по высоте.
Вам также потребуется:


кусок картона для подложки (не обязательно);


канцелярский нож;


тюбик клея;


ножницы;


линейка.


Видео-урок по сборке модели: hhttps://
vimeo.com/157680893
Файл не для коммерческого использования. По всем вопросам:
[email protected]
---
Files for making the lioness head out of paper.


Template for printing on A4 paper size (210× 297 mm);


Template for printing on A3 (420 × 297 mm);


Template for printing on A1 (594 × 841 mm);


Detailed English instructions, where you will find useful tips on the choice of materials, as well as step by step instructions for gluing the model.


Final model size the same for every format and it is about 45 cm in height.


You will need:


paper;


a piece of cardboard for the base (optional);


a cutter;


glue;


scissors;


a ruler. 


If you have never made something out of paper, it is not a problem! The creative process of gluing is very simple! File is for PERSONAL use only and not for commercial use. Please feel free to contact us
[email protected]
---
Aquí puedes comprar los archivos para hacer una cabeza de leona de papel.
Vas a recibir unos archivos con la plantilla que puedes imprimir en las hojas de papel del formato que sea cómodo para ti:


A4 (210× 297 mm)


A3 (420 * 297 mm) o


A1 (594 * 841 mm).


No uses un tamaño de papel para impresora de casa, ya que es muy pequeño y el tiempo y la dificultad del trabajo va a aumentar considerablemente. Además es mejor imprimir la plantilla en un papel más grueso que el papel ordinario de oficina.
Vas a necesitar:


carton para la base (no obligatorio),


un cutter,


cola,


tijeras,


regla.


El archivo tiene instrucciones detalladas en español. También encontraras allí los consejos prácticos para la elección de los materiales, así como las instrucciones para el encolado del modelo. Si nunca has trabajado con papel, ¡no hay problema! El proceso creativo del encolado es muy simple! Vas a hacer una cabeza del leona muy bonita para decorar cualquier espacio interior. El archivo es solo para uso PRIVADO y no es para uso comercial. 
[email protected]
---
Ici, vous pouvez acheter les fichiers indispensables pour faire la tête de lionne en papier. Vous recevrez les schémas que vous pouvez imprimer à votre convenance au format A4 (210 x 297 mm) ou A3 (420 × 297 mm) ou A1 (594 × 841 mm) La taille finale de la tête de lionne en origami est 45 cm de hauteur. Dans les fichiers que vous allez recevoir, une description détaillée est disponible en Français. Vous trouverez également des astuces sur le choix des matériaux ainsi que les étapes pour coller les différentes parties de la tête de lionne en papier. Vous auriez besoin en tout du carton pour la base (c'est optionnel), un cutter, de la colle, des ciseaux et une règle. Même si vous n'avez jamais fait des origamis au paravent, ça ne pose aucun problème ! Le processus de collage, montage est extrêmement simple. Il faut noter que les fichiers sont pour une utilisation personnelle et non commerciale. Pour tout complément d'information, n'hésitez pas à nous contacter par mail à l'adresse
[email protected]
You'll get 1 file (3.5MB)
More products from Polygonal Paper