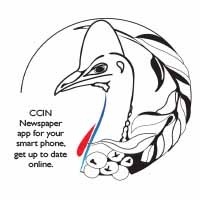 CCIN Link - 3 mth Subscription
Along with our new look web site, we are launching this month, our new CCIN Link, which allows our readers to subscribe via our web, using the security of PayPal, a private link is sent via email, embeded with your email address for security - click to read your weekly news on the privacy of your own smart device. This link is set for use 5 times, giving you the opportunity to link to the newspaper at your leisure. Never miss what's happening locally again!

Subscriptions are available for just the cost of the issue - 3mths - $16.80, 6mths - $33.60, 12mths - $67.20

Purchase your advertising space on line now too… full description and sizing is shown in both a drop-down menu from our front page, and within the shop-on-line page - buy with confidence, using PayPal.
You'll get a 308.7KB .PDF file.
More products from 7531905820196842