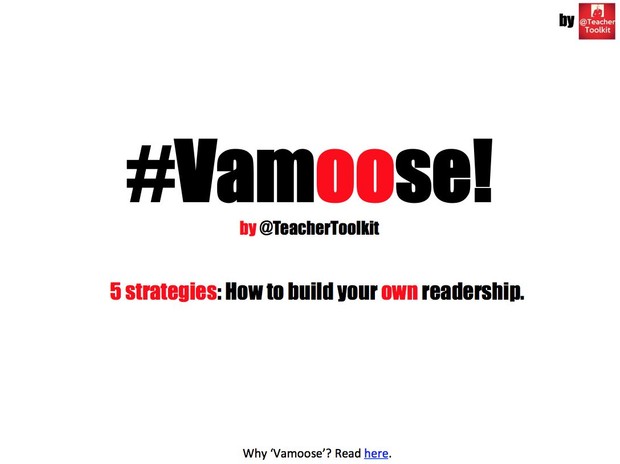 #Vamoose by @TeacherToolkit
Created to celebrate my ONE MILLIONTH blog view and 50,000th follower!
*** If you share this resource via Facebook or Twitter, you can grab a discount. ***
Product Description:
"This is an insight into the social-media presence of @TeacherToolkit. How does one person, generate over 2-million collective website views and over 55,000 Twitter followers? Find out more about my story, not yet shared online. My tips and secrets; in this intriguing 70-slide Powerpoint presentation; a teacher resource which offers several key strategies, for developing your own online identity; a brand; using blogging platforms to create a genuine worldwide readership. With this presentation, you too, can do the same ..."
Reviews:
"Great insights into connecting to, engaging with and building a customer base, using social media, from someone who has been there and got the t-shirt! Highly recommended." Jim Riley CEO @tutor2u
"I enjoyed the PowerPoint; simple to download and very informative" @TedfordDanielle
Further information:
http://teachertoolkit.me/resources/presentations/
You'll get 1 file (16.3MB)
More products from @TeacherToolkit Ltd.