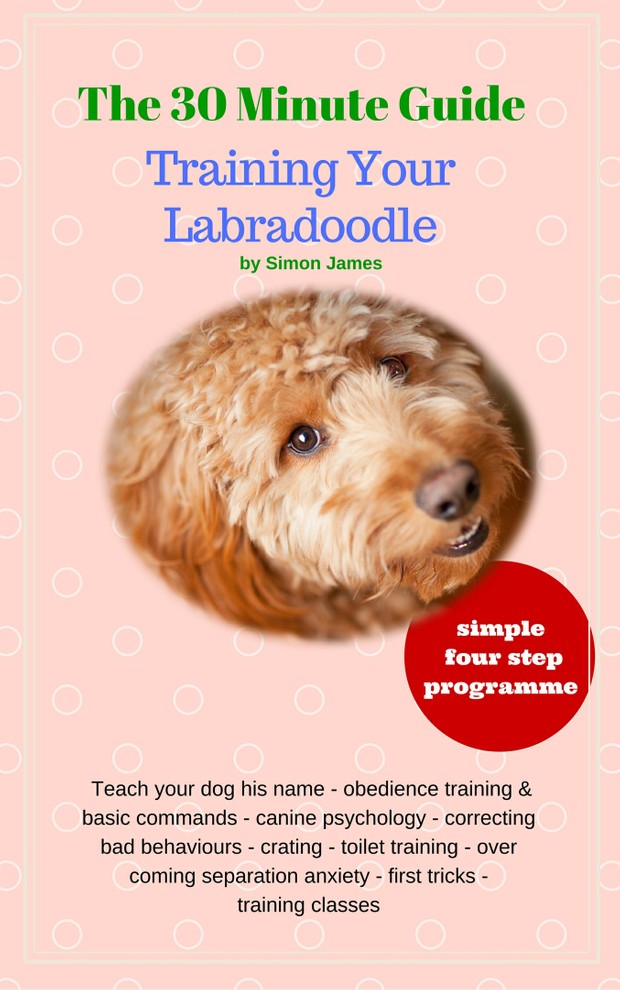 The 30 Minute Guide: Training Your Labradoodle
The Fun Easy Guide To Training Your Labradoodle
---
This 30 Minute Training Guide is written for the dog owner who doesn't have days and weeks to train their Doodle.
As any experienced dog trainer will tell you, no two dogs are the same. This statement is particularly true about Labradoodles because they're a cross-breed. Unlike pure breeds, cross-breeds have unpredictable characteristics.  Based on <strongThe Dogs Trust Training</strong method, it teaches simple, easy to follow instructions for both the Labradoodle and dog owner.
When you follow the steps in this guide, you will begin to understand dog training can be 100% successful and enjoyable for dog and owner.  You can be both partners and companions, so you're Labradoodle becomes a respected, and respectful, member of his new family.
All Basic Commands Covered
What every dog owner enjoys is a 'take anywhere dog', that is well behaved in other people's homes, at the shops and in the park. Learning the five basic commands will ensure you've got a Labradoodle that is always a pleasure to be with!
Housetraining
Getting your Doodle potty-trained is the first training you're going to do with him and the also the most important to help him settle into family life. The good news is it can be done as quickly as two weeks!
Crating
Doing crating correctly goes hand in hand with a puppy training programme. A dog crate serves several important functions for a puppy if introduced properly into his routine. It will become a place of comfort and safety and give him down time to relax but still feel part of the family.
Correcting Bad Behaviours
All dogs are prone to do the same things unless taught not to: pulling on the lead, problem barking and jumping up are all common behaviours which are easily corrected.
First Tricks
Once you've got your confidence with Labradoodle Training, increase your bond with your dog and enjoy doing some fun tricks together.  I'll show you how to do Shake A Paw and Roll Over.
Give you and your family the gift of a well trained dog.
The 30 Minute Guide will allow your Labradoodle to the thing he wants to most - please you!
Contents
1. Why Train Your Labradoodle


Equipment


Training Environment


2. Canine psychology


Learn how your dog learns


3. How to train your Labradoodle
4. Teach your Labradoodle his name
5. House training


How to toilet train your puppy


6. Crating
7. Basic Commands


Sit


Down


Stay


Walking on the lead


Come


8. Correcting bad behaviours


What makes for a happy Labradoodle


Pulling on lead


Barking


Solutions


Train to not bark


Overcoming separation anxiety


Jumping up


9. First Tricks
10. Training Classes
11. Top Tips for teaching and training
You'll get 1 file (32.0MB)