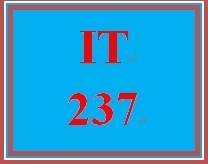 IT 237 Week 2 Project Proposal
**********************************************
IT 237 Entire Course Link
https://uopcourses.com/category/it-237/
**********************************************
IT 237 Week 2 Project Proposal
Resource
: Appendix A
Decide on your website's theme for the final
project. Consider using the Project Proposal from IT/236 as your working
document.
Submit 
the
following:


The site's
purpose: short paragraph to describe what you want the website to
accomplish


The site's
target audience: Briefly describe for whom your website is intended. You
may use bullet points.


The site's
message: The message is not a detailed description of all the site's
content; instead, it is the overriding theme or message, such as a slogan
or motto. You may include a list of what you want the site to communicate
to the target audience.


You'll get 1 file (21.4KB)
More products from UopTutorials