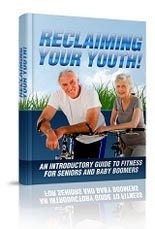 Reclaiming Your Youth
Looking To Get Back Your Vigor And Energy For Life?
Revealed! The Secrets To Creating Energy To Do The Things You Want To & Discover How To Reclaim Your Youth...Starting Today!   
Read on below to see exactly how you can enjoy the best of life in these golden years by starting & implementing an exercise routine that will have you feeling youthful once again!
You're Only As Old As You Feel - Why Do I Feel Like This Learn Exactly The Steps Needed To Embark On An Exercise Plan Discover The Pillars To Great Exercise Ways To Stay Active And Keep Things Fresh And Full Of Variety Sample Gym Exercise Routine Weight Lifting...Is It Safe?
Intimacy In Your Golden Years - Exercise Can Greatly Improve It And Much, Much More..
Why It's Important To Invest In This Book Right Now...

If you are looking to look after your body and reclaim your youthfulness then it's important to not let anything stand in your way from doing it. Don't let a few dollars stop you from learning the secrets that could change your life while also enriching it. Can you put a price on health?

Well, For a very limited time, you can grab my fantastic and info-packed guide "Reclaiming Your Youth" for the amazingly low price of just $7.

You'll get a 37.4MB .ZIP file.
More products from BestBuy Digital