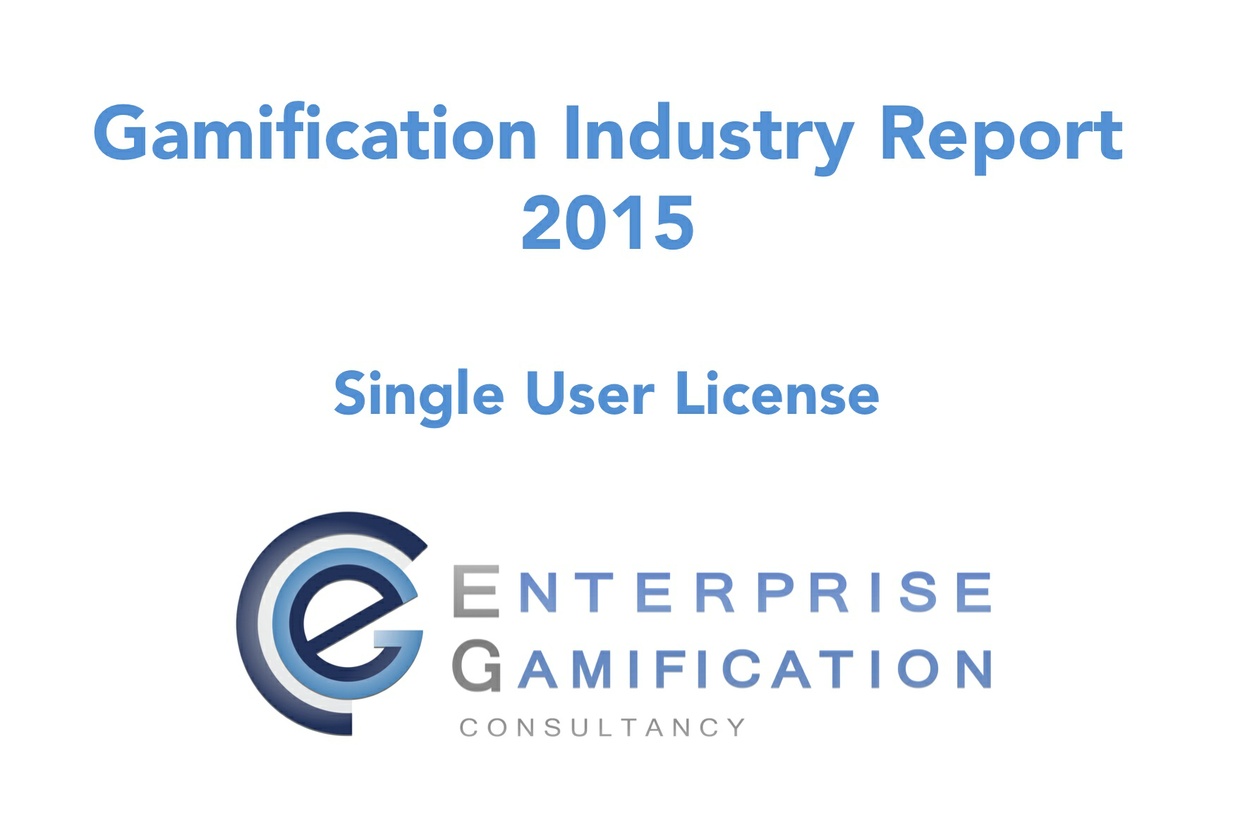 Gamification Industry Report 2015
Enterprise-Grade Gamification, Engagement, Behavior Modification Platforms
An Evaluation and Comparison of twelve gamification platforms.
SINGLE USER LICENSE
Publishing Date: April 2015
File Size: 8.2MB
43 pages
Lead Researcher: Mario Herger
Contact:
[email protected]
-gamification.com
------------
== DESCRIPTION ==
In
our first industry report on enterprise grade gamification platforms,
we evaluated and compared twelve universal platforms and their vendors.
We identified four gamification leaders and one surprise top ranked
platform. As gamification moves from a novelty to a mainstream
technology, and shifts from a customer to an employee engagement
program, organizations need to consider gamification strategies that go
beyond an isolated use of gamification in areas such as eLearning or
loyalty programs. Universal, enterprise grade gamification platforms can
be deployed throughout an organization and integrate gamification
experiences, engage players, and collect data across processes.
With
SAP as the first large business software vendor entering the market in
2015 with its own solution, we consider this as a significant shift in
the market that will lead to consolidation and the entrance of other
major software vendors.
Target Audience
This report is for
organizations that plan to incorporate gamification into their strategy
and deploy gamification organization wide. This report is also for
gamification platform vendors and gamification practitioners.
Benefits
To
help organizations make an informed decision, we queried all vendors
and other contact about the product and service offerings on a variety
of categories. Readers will learn about
Status of the Gamification Industry
Learn about gamification platforms and vendors
Learn about predictions for the market, ecosystem, big data, and training
Get access to evaluation checklists
Understand the Elements of a Successful Gamification Strategy.
== EVALUATED PLATFORMS ==
The gamification platforms that we selected for this industry report are:
Badgeville
BizPart Engage
Bunchball
eMee
Funifier
GamEffective
Gamification-Engine
Infosys
Mambo.io
Playlyfe
SAP
TribeCloud
== PURCHASE ==
If you want to order and pay through other means, send an email to
[email protected]
-gamification.com
.
Evaluation Categories
We evaluated the platforms and vendors on the following criteria categories:
Company Profile
Features and Functionality
Programmability
Administration
Delivery Model
Analytics
Other Requirements
Sustainability
== REPORT CONTENT ==
Executive Summary 4
Overview 5
-Purpose 5
-Criteria 5
-Definition 6
-Engagement 7
State of the Industry 9
Platform Comparison 10
-Overview 10
-Rankings 11
-Details 15
Predictions 26
-Market Growth 26
-Ecosystem 26
-Big Data 26
-Consulting and Training 27
Elements of a Successful Gamification Strategy 28
-Gamification Training 28
-Engagement Sustainability 28
-Objectives, Metrics, Analytics 29
-Empathy with the Players 29
-Gamification Checklists 30
Platforms 31
-Badgeville 31
-BizPart Engage 31
-Bunchball 32
-eMee 32
-Funifier 33
-GamEffective 33
-Gamification-Engine 34
-Infosys Enterprise Gamification Platform 34
-
Mambo.io
35
-Playlyfe 35
-SAP 36
-TribeCloud 37
-Other Noteworthy Platforms 38
Appendix 39
-About Enterprise Gamification Consultancy 39
-Books 40
-Index 43
List of Figures
FIGURE 1: THE BIG PICTURE OF ENTERPRISE GAMIFICATION 7
FIGURE 2: GOOGLE TRENDS ON GAMIFICATION, MOTIVATION, AND ENGAGEMENT 8
FIGURE 3: GAMIFICATION PLATFORM LEADER MATRIX 11
List of Tables
TABLE 1: OVERALL GAMIFICATION PLATFORM RANKING 12
TABLE 2: VISION LEADERS 13
TABLE 3: PLATFORM ROBUSTNESS LEADERS 13
TABLE 4: CONNECTIVITY & INTEGRATION LEADERS 14
TABLE 5: COMPANY PROFILE 16
TABLE 6: BUSINESS MODEL 18
TABLE 7: PROGRAMMABILITY 20
TABLE 8: DELIVERY MODEL 21
TABLE 9: NON-FUNCTIONAL REQUIREMENTS 23
== CONTACT INFORMATION ==
MARIO HERGER, CEO Enterprise Gamification Consultancy, Lead Researcher
Email:
[email protected]
-gamification.com
You'll get a 8.4MB .PDF file.
More products from Enterprise Gamification Consultancy LLC