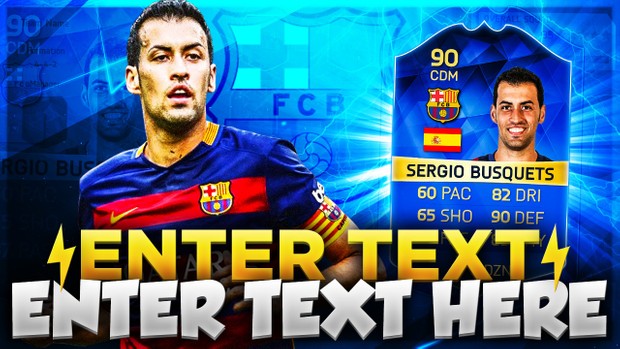 FIFA 16 TOTS BUSQUETS THUMBNAIL TEMPLATE
FIFA 16 TOTS BUSQUETS THUMBNAIL TEMPLATE!! TOTS IS HERE! 90 BUSQUETS THUMB. You can use it for anything related to the player! I will release another even MORE MC TOTS THUMBS, including more players!
THIS THUMB IS FULLY EDITABLE IN PHOTOSHOP, BUT IF YOU DONT HAVE PHOTOSHOP, THERE IS 1 SEPARATE THUMBNAIL WITH CHANGED TEXT INCLUDED(IT WONT SAY ENTER TEXT, IT WILL SOMETHING RELATED TO THE THUMB)! YOU DONT NEED PHOTOSHOP TO USE THIS THUMBNAIL! YOU NEVER GET THIS ON ANY OTHER THUMBNAIL SOLD HERE!

I will release 
a lot 
of thumbnail templates for each tots. I will be doing specific ones on trading methods, squad builders, packs, and other popular fifa series!
You can buy them separately for $1 or in packs that save you money: 
Series Pack:
https://sellfy.com/p/7Znl/
Players Pack:
https://sellfy.com/p/lvwn/
Ultimate TOTS Most Consistent Pack:
https://sellfy.com/p/49cU/#
Stay tuned for more, if you want cheap personal gfx then contact me on twitter (im gonna be very active)
www.twitter.com/SJDznCFC
You'll get 1 file (8.2MB)