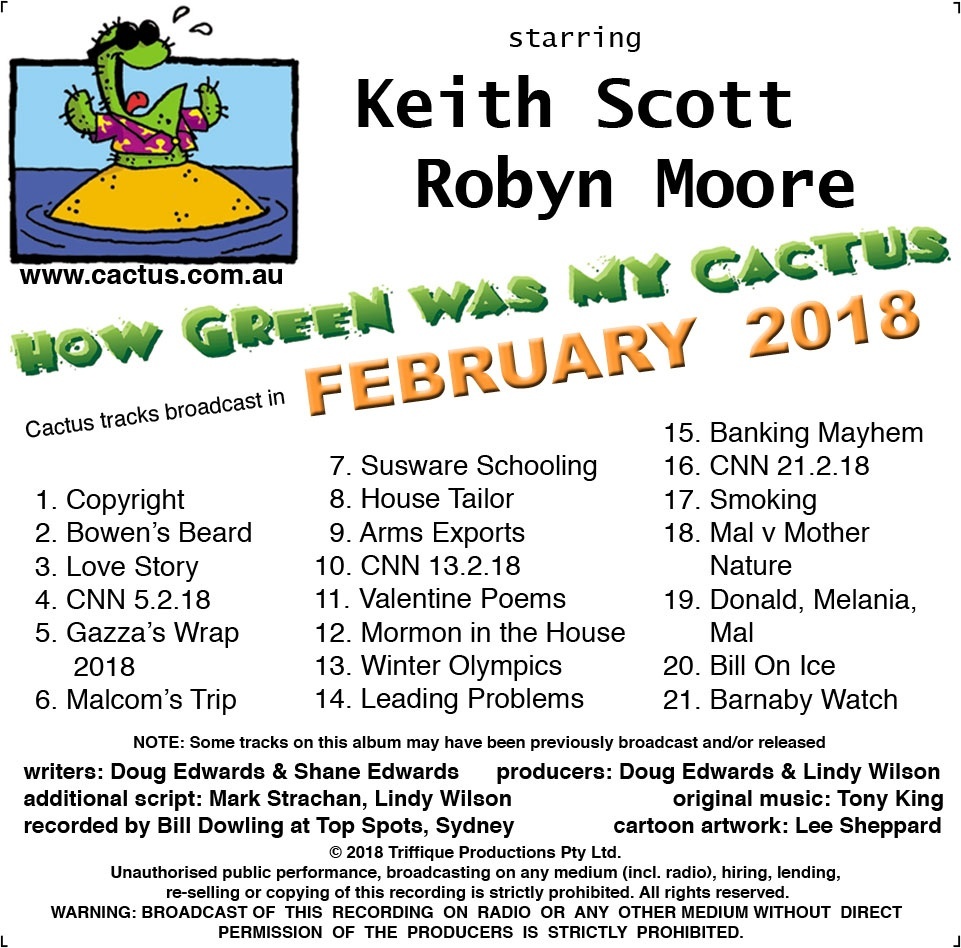 CACTUS - February 2018
CACTUS
FEBRUARY 2018
TRACKS
1. Copyright: All material downloaded is copyright.Unauthorised public performance,broadcasting on any medium (including. radio),hiring,lending,re-selling or copying of this recording is strictly prohibited.All rights reserved. ©2017 Triffique Productions Pty Ltd
2. BOWEN'S BEARD: Flopposition leader Bill Curly wants his Shadow Treasurer Owen Bowen to shave off his beard which is a real vote loser. It looks like a worn out dunny brush.
3. LOVE STORY: The host of 7.30  Leigh Nails tries to persuade Malcolm Talkbull to restore funding to the ABC. She wants to buy Annabel Crabbe a hair brush.
4. CNN 5.2.18: Sandra with news, Richard with Showbiz and in sport Big Gazza Roidman discovers why tennis genius Bernard Dropkick has failed - he's been trying to play tennis with his head up his arse.
5. GAZZA'S WRAP 2018: At the Parliamentary Question Time grudge match, Big Gazza Roidman thinks Malcolm Talkbull should be playing for the opposition – he's as wet as Leunig.
6. MALCOLM'S TRIP: Cactus Island's CEO Mal Talkbull delivers his revealing report to Parliament on his big overseas trip. Revealing because none of his colleagues knew he was gone.
7.  SUSWARE SCHOOLING: Hey struggling mums and dads! Can't cope with exorbitant school fees? You need Susware Home Schooling! Even make a profit! Call 1-800 GONSKI-CASHSKI!
8. HOUSE TAILOR: Mal Talkbull explains to Parliament his objection to a Carbon Emissions Trading Scheme while Mr Humphries fits him for a new morning suit.
9. ARMS EXPORTS: Mal Talkbull explains that exporting arms is no more unethical than exporting uranium, brown coal or Rolf Harris.
10. CNN 13.2.18: Sandra Silly with news, Big Gazza Roidman with sport, and showbiz guru Richard Richard reveals that Donald Dump hurt his hand when he met Meghan Markle because she wore a cricket protector.
11. VALENTINE POEMS: Hartley Moistgusset presents beautiful Valentine's Day card poems, even one by young William Shakespeare during his career with Hallmark Greeting Cards.
12.  MORMON IN THE HOUSE: Two clean-cut Mormon boys with white shirts, black pants and pink livers knock on the door of Parliament House.
13. WINTER OLYMPICS: Sports editor Big Gazza Roidman shares his opinion that the Winter Olympics is sport gone nuts, and not just because it excludes important events like women's beach volleyball.
14. LEADING PROBLEMS: The knives are out for Flopposition Leader Bill Curly, while Mal Talkbull finds it hard to talk sense into Barnaby Joh while Barnaby is googling eBay for a cheap pram.
15. BANKING MAYHEM: Bill Curly wants the Banking Royal Commission to find out why the banks never give the Labor Party its brown paper bags back after they deposit Chinese donations.
16. CNN 21.2.18: Sandra with news, Richard Richard with showbiz, and sports editor Big Gazza Roidman rejoices knowing that global warming will end the Winter Olympics forever.
17. SMOKING: At bus stop, a woman is annoyed by smoke from another traveller's cigarette. When she suggests that he give up smoking, he lists myriad reasons for not doing so.
18. MAL v MOTHER NATURE: Mother nature berates Malcolm Talkbull over his love of coal. Mal assured her that when new 'clean' coal is fired it smells like freshly baked scones.
19. DONALD, MELANIA, MAL: Mal Talkbull meets with Pres. Donald Dump and First Lady Melania Dump in the White House. Donald thinks Mal has come to say goodbye, given his opinion poll results.
20. BILL ON ICE: Sports guru Big Gazza Roidman recalls the 2002 Winter Olympics and the miraculous gold medal win in the 1,000 metres speed skating final by our own Steven Bradbury.
21. BARNABY WATCH: Barnaby Joh explains that he started his affair with his staffer when he had NZ citizenship, because he thought being a dual citizen meant he should have dual wives.
You'll get a 41.1MB .ZIP file.
More products from doug_e