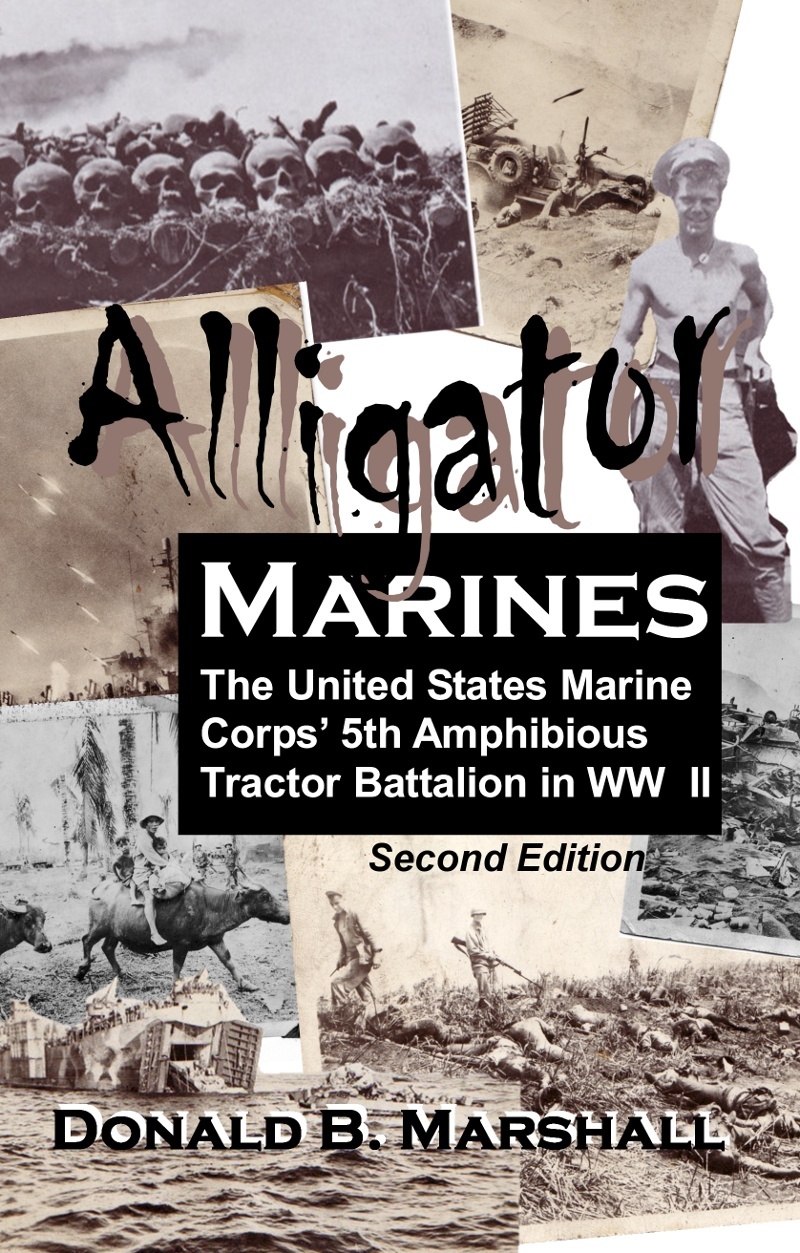 Alligator Marines, the United States Marine Corps' 5th Amphibious Tractor Battalion in WW II
PAY WHAT YOU WANT FEATURE. The minimum price is $5 but the actual retail price is $9. If you appreciate getting this book with illustrations from Don Marshall, please feel free to pay what you think a book on the Marines in the Pacific during WWII is worth.  We added this feature so that Veterans would have better access. Veterans pay $5 and others pay more if can ($9 or more). We appreciate it.

This is a book about the 5th Amphibious Tractor Battalion, World War II, three tiny pacific islands, and the story of the 'young men' who became 'legendary men' fighting for their mothers and fathers, flag and country, you and me.
Undoubtedly you know the story of Iwo Jima and have seen Joe Rosenthal's photo of the six heroes who raised the flag above Mount Suribachi. The battle for the volcano was an epic in itself, the capture of Suribachi becoming a legend in the long and varied history of the United States Marine Corps. What you haven't read about, however,  is the story behind the legend, the story of the barefoot Marine who won't call himself a hero but never-the-less is. It is the story of my Dad who by 18 was already a veteran of Saipan and Tinian and then drove an Amtrac with the 5th Amphibious Tractor Battalion as they drove ashore on Iwo Jima. 
He drew pictures from paper taken off dead bodies so he could remember the stark reality and share it with you. This version has been updated with many of his drawings included as well as a few photos.
The story is about heroes, coming of age, and facing the enemy. It is both tragic and humorous; it is the telling of the tale of Don Marshall, proud to number himself among those amphibians of the 5th who wore the eagle, globe, and anchor--an Alligator Marine! ~Shelly, the daughter

PS--Dad passed away in 2010--but his story lives on.
You'll get a 1.5MB .JPG file.