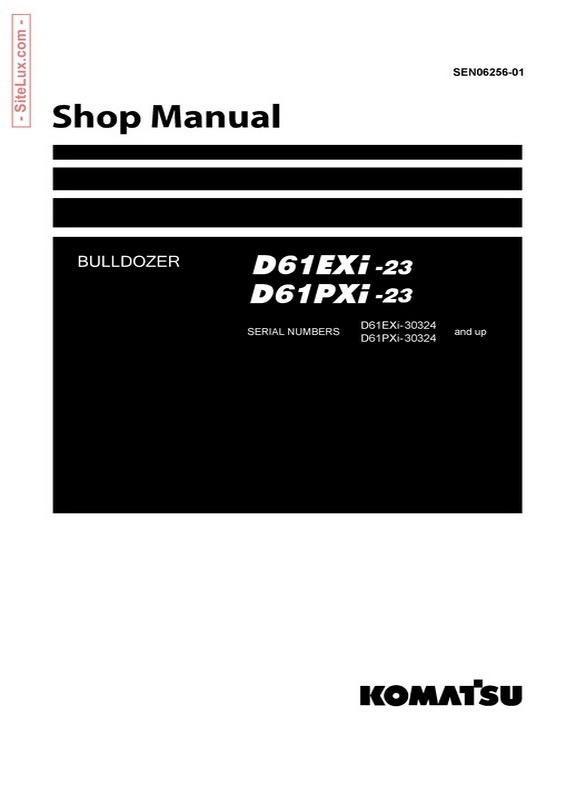 Komatsu D61EXI-23, D61PXI-23 Bulldozer (30324 and up) Shop Manual - SEN06256-01
This Complete Service Repair Workshop Manual PDF Download for the Komatsu D61EXI-23, D61PXI-23 Bulldozer (30324 and up) has easy-to-read text sections with top quality diagrams, pictures and illustrations. The step by step instructions show you how to fault find or complete any repair or overhaul, correctly and efficiently, saving time and avoiding costly mistakes. All specifications and tolerances are listed. Functions of components and systems are also explained.
APPLICABLE MODELS :
Komatsu D61EXI-23 - S/N: 30324 and up
Komatsu D61PXI-23 - S/N: 30324 and up
TABLE OF CONTENTS :
00 Index and foreword
01 Specification
10 Structure and function
20 Standard value tables
30 Testing and adjusting
40 Troubleshooting
50 Disassembly and assembly
60 Maintenance standard
80 Appendix
90 Diagrams and drawings
INDEX
MANUAL SPECIFICATION :
File Format : PDF
Language : English
Printable : Yes
Searchable : Yes
Bookmarked : Yes
Product Code : SEN06256-01
Total Pages : 1939
This manual has been prepared as an aid to improve the quality of repairs by giving the serviceman an accurate understanding of the product and by showing him the correct way to perform repairs and make judgements. Make sure you understand the contents of this manual and use it to full effect at every opportunity. This is a must for the Do-It-Yourselfer! Saving Yourself $$$$$$ In Service Repair And Maintenance Costs !!!!
This manual PDF download contains specs, diagrams, actual real photo illustrations, and schemes. In addition to space savings, nice thing about having PDF files instead of a hard-printed manual is that you can use the Search feature in Acrobat to find just what your looking for and just print out the exact pages you need or all manual.
More Info :
https://www.sitelux.com
You'll get a 51.5MB .PDF file.