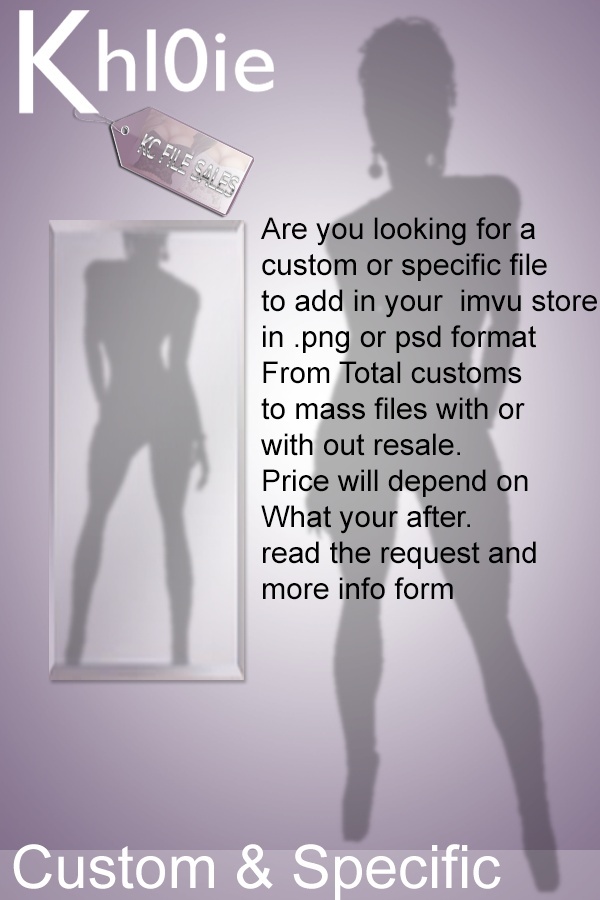 K Custom & Specific order form
Are you looking for a custom or specific file to add in your imvu store in .png or psd format.
From Total customs to mass files with or with out resale. Price will depend on What your after.
read the request form for more info.   
Info
Customs and specific
Prices are as a guide they may change depending on what your after and the hours it takes to make the item/ items 
Specific mass ( price will be displayed depending on the items $3- $4)( no resale)
Specific with resale $7.00
Specific exclusive to you and my self ( resale is included) $15.00
Specific exclusive to you only ( resale is included) $20.00 
Prices are in USD and are subject to change depending in the items and the amount of work it needs
Prices are for .png  PSD Files add $2 for each file 
Selfy fees
5% (five percent) fee, if the Goods are sold to a Customer by a User without providing Sellfy Promotion Services
Selfy fees are added to the prices at the end
Example  : Specific with resale is $7.oo usd + selfy fee  = $7.35 
What files I will not make
Copyright branded
Logos copyright
Copying other creators work
Anything against imvu's T.O.S
All files sold are my work. You may chop and change the files as you wish but they are still my work.
If you committed to buy you must buy the files no refunds will be issued.
If you request is approved you will be contacted to discuss it further.
 Don't rush me it takes time to make textures I have a real life as well as you and things happen.
I will keep in contact each step of the way.
I will not tolerate drama or rudeness.
If at any time I can choose to cancel your order.
Thank you For your support !!    
FORM 
Name :
FILE TYPE :
G.A / A.P :
What is the item you want me to make : 
Do you have examples pics links ect… :  
Any other details about the project your after: 
Any Specific mesh ?:  
Your details :
Imvu username ( acount you will be useing for the files) :
Selfy acount name and link :
Facebook link : 
Any other questions or info : 
You can copy and paste the form and send it to my inbox on selfy, imvu or Face book
My selfy link :
https://sellfy.com/1635434803365549
My Imvu link :
http://www.imvu.com/catalog/web_mypage.php?user=29652412
My facebook link :
https://www.facebook.com/clacce.parks
Thank you
$0.90
You'll get a 11.5KB .ZIP file.
More products from Khloie Parker