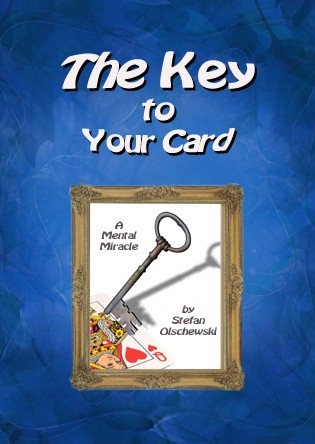 The Key to Your Card eBook
Oh no! Not another ACAAN version!
But wait – maybe this one is a version you WILL actually use.
Stefan Olschewski took the old premise and turned it into a 5 minute performance piece that plays great in any setting, from close up to stage. And it will fool even magicians!
A wooden chest is seen resting on a table center stage. Two spectators select a playing card and a number from 1 to 52 in the fairest manner. They may even change their minds as often as they wish. Card and number are written on a sketchpad for everyone to see. A lady from the audience opens the chest. She finds a deck of playing cards inside. She takes the deck, deals through the cards and finds the selected card exactly at the selected number.


No awkward counting or calculating 


No stooges 


No secret switches 


No rough and smooth 


No pre-show work 


Easy to do


The spectators may change their mind if they like 


The lady herself takes the cards out of the chest 


She deals the cards herself 


You don't come near the chest 


You NEVER touch the chest or the cards!!!


This ebook delived to you INSTANTLY after ordering (!) 
shows you exactly how to set up and perform one of the easiest and cleanest variations of the classic plot that will suit any venue. Stefan even includes his full script, audience-tested in hundreds of performances.
What the pros say:
"The method is VERY clever ideed"
Marc Dibowski
"If you're still searching for the ACAAN holy Grail then I recommend you check this out." 
Peter Duffie 
"I think that Stefan Olschewski's work is clean and beautiful. It's definitely refreshing to read his material, and know that it is solid, audience tested, and workable. I'm a fan." 
Michael Paul 
"This is one of the most practical, easiest to perform ACAAN versions out there!" 
Ony Carcamo 
"GREAT PIECE OF ENTERTAINMENT! One of the BEST USES of ACAAN I've seen" 
John Cesta
Watch the full performance video here
: 
https://vimeo.com/22125470
Watch the trailer here
: 
https://youtu.be/RhXDLsAPaUY
ORDER NOW!
You'll get 1 file (879.0KB)
More products from Stefan Olschewski