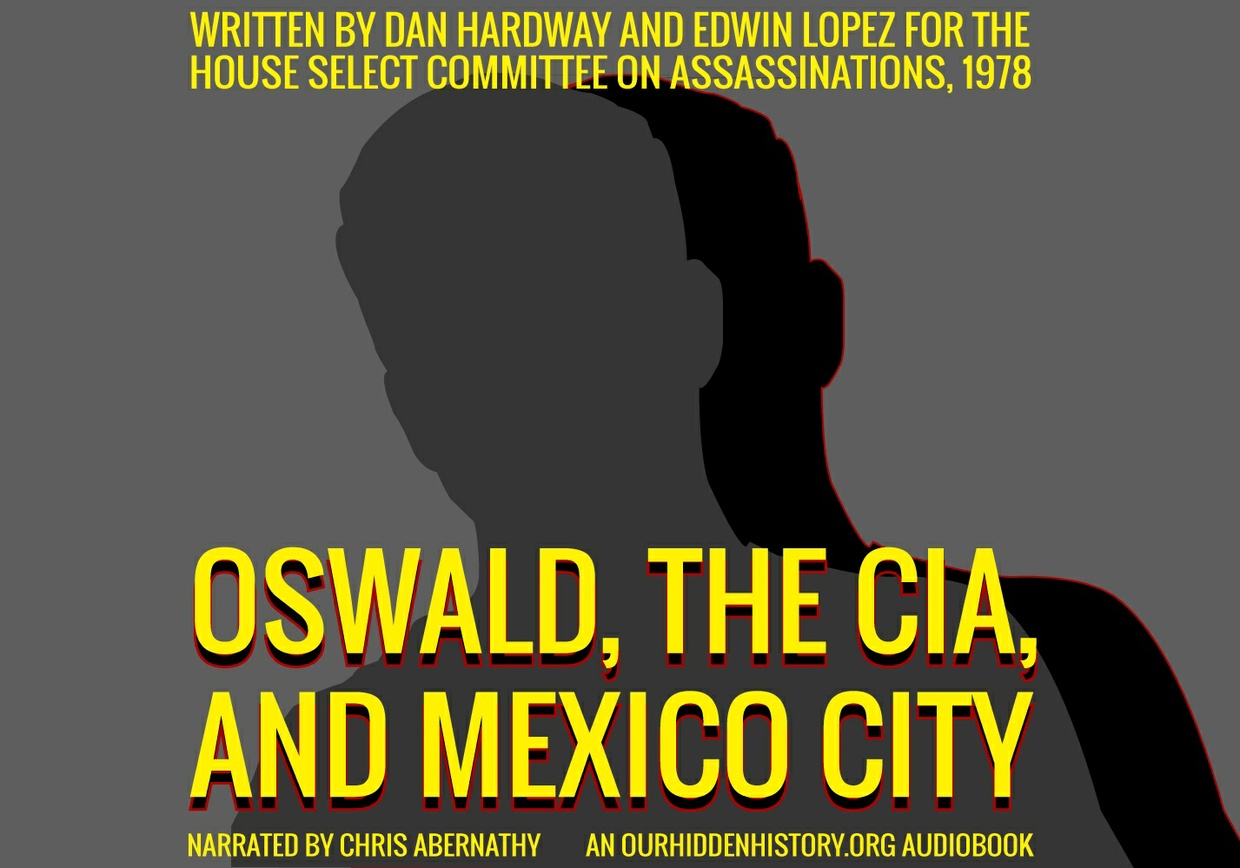 Oswald, the CIA, and Mexico City (aka the Lopez Report)
Running time: 7+ hours
House Select Committee on Assassinations
Oswald, the CIA, and Mexico City (aka The Lopez Report)
Written by Dan Hardway and Edwin Lopez
The Warren Commission's tried to offer easy answers the complicated CIA story about Lee Harvey Oswald and Mexico City. This 1978 report, written by two of the most tenacious investigators on the HSCA, took a deeper look at the CIA's claims. Was Lee Oswald impersonated in Mexico City? Why couldn't the CIA, with all of their surveillance of the sites Oswald visited, come up with any photos or a voice recording of him there? Dan Hardway and Ed Lopez attempt to answer these questions and many more in this report.
About the Lopez Report
From History Matters (
history-matters.com
): "The 'thirteenth appendix' to the HSCA Report on the JFK assassination is a staff report entitled 'Oswald, the CIA, and Mexico City.' This report describes what the Committee learned about Lee Oswald's trip to Mexico City less than two months prior to the assassination. Questions it grapples with include why the CIA was apparently unable to obtain a photo of Oswald from any of its photographic surveillance stations (and instead produced a photo of a 'Mystery Man' who was clearly not Oswald), whether Oswald was impersonated in Mexico City, and what credibility to attach to any of the indications and allegations of Communist conspiracy emanating from that city."
For a pdf copy of the report, visit:
http://www.history-matters.com/archive/jfk/hsca/lopezrpt_2003/contents.htm
Our Hidden History
Our Hidden History is an exploration of the Hidden History of the United States and the world. Our Hidden History produces audio book versions of historical primary documents from the Cold War to today. Our recent focus has been to create audio books from the Church Committee's Final Reports for the 40th Anniversary of the Committee.
Check out Our Hidden History at
http://ourhiddenhistory.org
YouTube:
https://www.youtube.com/channel/UCbfzszfxZr4qmeZjZ_3R_Pw
Facebook:
https://www.facebook.com/OurHiddenHistory
The Recordings
These audio recordings were narrated by Chris Abernathy for Our Hidden History. The Reports by the House Select Committee are in the Public Domain. The recordings are copyright Our Hidden History.
For similar recordings, visit
http://ourhiddenhistory.org
Contact
If you would like to use any portion of this or any other of Our Hidden History's recordings, please contact:
[email protected]
Last updated: Oct 2016
You'll get a 447.7MB .ZIP file.