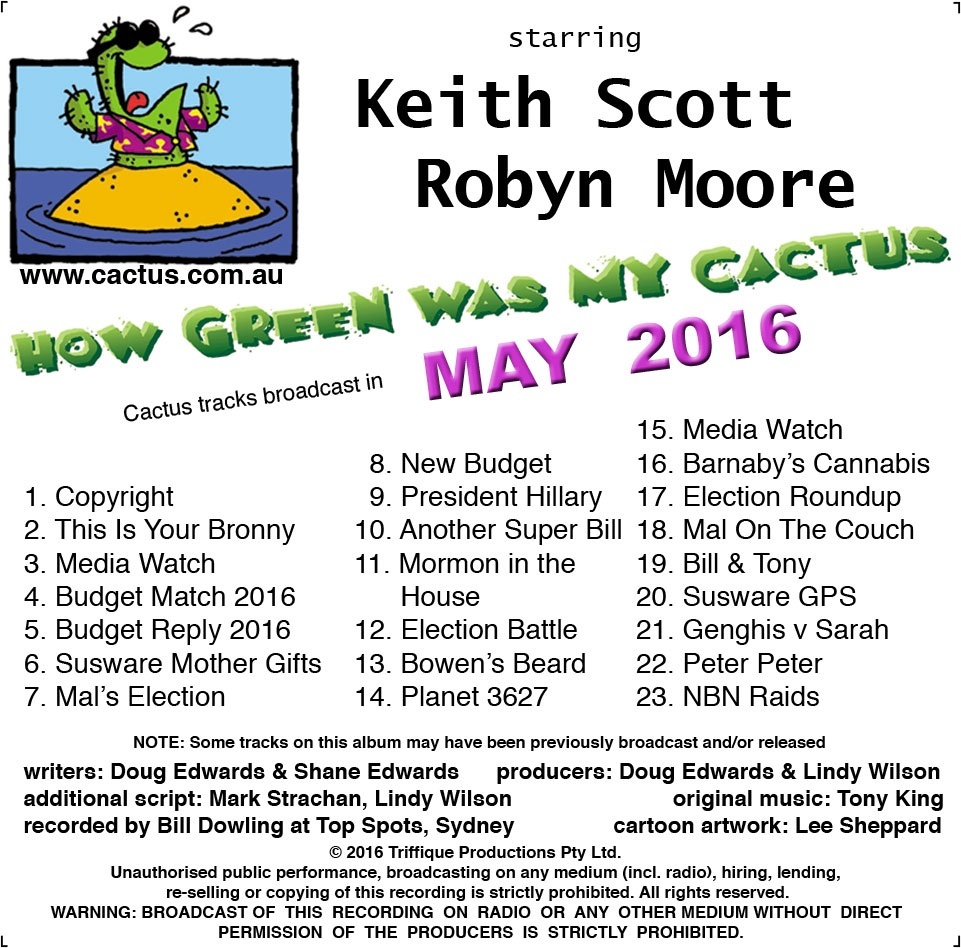 CACTUS - MAY 2016 (all tracks)
DESCRIPTIONCACTUS - MAY 2016 TRACKS 1. Copyright: All material downloaded is copyright.Unauthorised public performance,broadcasting on any medium (including. radio),hiring,lending,re-selling or copying of this recording is strictly prohibited.All rights reserved. ©2015 Triffique Productions Pty Ltd 2. THIS IS YOUR BRONNY: Discarded ex-Speaker Bronwyn Bouffant Biddy appears on This Is Your Life. It's revealed that Bronny only hired all those helicopters to dry her famous hair. 3. MEDIA WATCH: The 60 Minutes child kidnap saga is examined by Paul Nitpick, the host of Media Watch. Media Watch judges other programs. It's a sort of Goggle Box for IQs over 40. 4. BUDGET MATCH 2016: Big Gazza Roidman reports on the annual Budget grudge match at the Parliament House of Pain. 5. BUDGET REPLY 2016: Flopposition leader Bill Curly delivers his Budget Reply speech. Health authorities warn that this may cause drowsiness. Listeners should not operate machinery. 6. SUSWARE MOTHER GIFTS: Hey offspring! Not sure what to get mum for Mothers Day?! Let Susware Online match your mother with the right gift using their new state-of-the-art Hadron Collider computer technology! 7. MAL'S ELECTION: Emperor Malcolm Talkbull explains why he has called the election, imploring people to vote for him even though their life is not all Grange Hermitage and skittles. 8. NEW BUDGET: Home Shopping channel presenter Moira Gush hosts the sales team from Budgets-R-Us, Emperor Mal Talkbull, Treasurer Blot Morrison and Finance Minister Mathias Cormanegger. 9. PRESIDENT HILLARY: CNN has news from 2017, including a report on the new US president, Hillary Clinton. Will she emulate her husband, ex-president Bill Clinton, when an intern walks in? 10. ANOTHER SUPER BILL: Flopposition leader Bill Curly is Super Bill! Faster than Sydney traffic! More powerful than a nun's fluff! Can the Cardiganed Crusader defeat negative gearing? 11. MORMON IN THE HOUSE: Two clean-cut Mormon boys with white shirts, black pants and pink livers knock on the door of Parliament House. 12. ELECTION BATTLE: Emperor Malcolm Talkbull blames his troops for his embarrassing showing against Labor in the opinion polls, even though Labor has a lesbian and a Muslim in their ranks. 13. BOWEN'S BEARD: Flopposition leader Bill Curly wants his Shadow Treasurer Owen Bowen to shave off his beard which is a real vote loser. It looks like a worn out dunny brush. 14. PLANET 3627: Naturalist David Kittenburger goes in search of the most unique creature in the universe, even more unique than the horn-billed Latvian cow, or Latvius Moo-us. 15. MEDIA WATCH: Media Watch presenter Paul Barracuda looks at the class war between Labor's Bill Curly and Liberal Mal Talkbull. As if politicians have any class at all. 16. BARNABY'S CANNABIS: Deputy PM Barnaby Joh congratulates medical science for the important development of medical cannabis, even if science did get global warming completely wrong. 17. ELECTION ROUNDUP: Is it true that cockroaches are the only creatures able to survive a nuclear holocaust, but only so the politicians will have something to feed on? 18. MAL ON THE COUCH: A depressed Malcolm Talkbull visits a psychiatrist because he's just not feeling himself anymore. The shrink is happy to know that at least he's cured that problem. 19. BILL & TONY: Bill Curly and his Labor Party friends discuss how the Liberal Party ex-leader Tony Abs undermines Malcolm Talkbull. In fact Tony's nickname is now Sinkhole. 20. SUSWARE GPS: Hey drivers! Hey lost people! Are you bored with the voice on your GPS? Then you need Susware's GPS Voice Magic! George Clooney! The Queen! Molly Meldrum! The lot! 21. GENGHIS v SARAH: Talkback genius Genghis Porkbun explains to Greens spokespixie Sarah Handsome-Rack why renewable energy is a passing fad, like the hoola-hoop, Medicare and women in politics. 22. PETER PETER: Immigration Minister Peter Peter warns that foreigners will take our jobs. Is he the Minister For Immigration or Minister Against Immigration? 24. NBN RAIDS: Bill Curly tells police they're wasting their time looking for leaked NBN documents which may damage Mal Talkbull. Bill says Labor wouldn't leak on Mal if he was on fire. NOTE: TRACKS ON THIS ALBUM MAY HAVE BEEN PREVIOUSLY BROADCAST AND/OR RELEASED. Copyright: All tracks and material ©2015 Triffique Productions Pty Ltd. All rights reserved. All material downloaded is copyright. Unauthorised public performance, broadcasting on any medium (including. radio), hiring, lending, re-selling or copying of this recording is strictly prohibited. All rights reserved.
You'll get a 44.9MB .ZIP file.
More products from doug_e