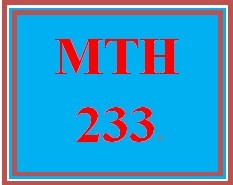 MTH 233 Week 2 DQ 2
MTH 233 All Weeks DQs : 
https://uopcourses.com/category/mth-233/
MTH 233 Week 2 DQ 2Monthly Bills2. Create a list of representative monthly phone bills, transportation expenses, and rent or mortgage expenses for the past year for your town or city. Round all figures to the nearest dollar and compute the range, standard deviation, and variance for each group of data. A statistical calculator or software, such as StatDisk, can be used to do the computations.  How does the cost of your home compare to the other houses on your street?  What statistic should you use? 
You'll get 1 file (52.5KB)
More products from UopTutorials