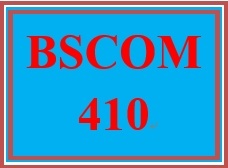 BSCOM 410 Week 3 Annotated Bibliography
https://plus.google.com/u/0/108200033792883877670/posts/dWT4sDYbQKM
 BSCOM 410 Week 3 Annotated Bibliography 
Refer to the University of Phoenix Material: Media Effects Case Study and Presentation to complete the Week 3 deliverable for this assignment.
Format your assignment according to appropriate course-level APA guidelines.
Submit your assignment to the Assignment Files tab.
For Week Three, each learning team will prepare an annotated bibliography with five sources that speak to the media and impact.  This includes information on the primary audience(s) of the magazine your team selected in relation to media exposure and effects.  These sources will be used in preparation for the Media Effects Case Study due in Week Four, and the Media Effects Case Study Presentation, due in Week Five. 
Create an annotated bibliography to organize your research for your team's Media Effects Case Study.    
Research five peer-reviewed articles and researchstudies from within the last three years that focus on media effects, messages, and audience.      
Select and read five sources as noted above for the annotated bibliography.      
Write a 100- to 175-word descriptive and critical annotation summarizing and interpreting each article. Include the research methodology (i.e., how the data/result was obtained) for each research study.   
Format your annotated bibliography consistent with APA guidelines. See the Center for Writing Excellence for assistance with annotated bibliography format. 
You'll get 1 file (73.5KB)