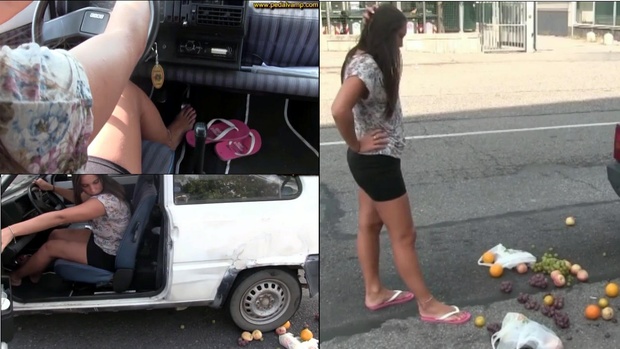 102 : Miss Iris crushing and smashing fruits under the wheels of the old Fiat Panda
Miss Iris is driving to the supermarket to buy some fruit for her house.

Once she jumps on board of the old Fiat Panda, she realizes that she did not change her shoes and she left home in flip flops.

She tries to drive with them but she can't feel the pedals, so ... she take off her flip flops and continues to drive until she arrives at the supermarket. She buys the fruit and go back to the car.

But when it's time to put the bags with all the fruit in the car, the bags crack and everything comes out! What a mess!

What follows is a lot of crushing, smashing and fighting between an angry Iris and the fruit!
You'll get 1 file (502.9MB)
More products from Pedal Vamp