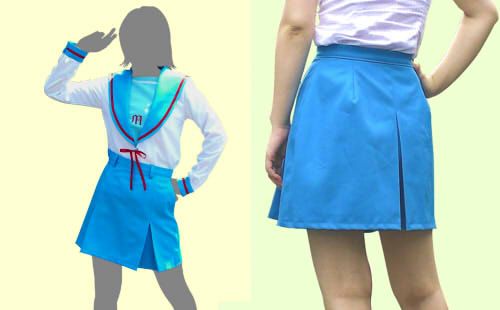 box pleated skirt. Waist (Paper pattern)
Sewing Patterns for Cosplay, Pleated Skirt like The Melancholy of Haruhi Suzumiya
This paper pattern is available for the costumed play of the box pleated skirt
Two lines of pleats are also designed in the back.
Featuring the pleats which were in the neat silhouette straight.
This is a type to fasten the sides with fastener.
How to make a box pleated skirt.
http://yousai.net/english/howto/cos/haruhi/box.htm
******************************
The pattern for a sailor suit is not included.
This pattern already has base for sew base.
the way you are not going to mistake and finished up making smaller.
Also pattern has illustration of which parts, it is really easy to make.
*Size Waist size76cm
Can be worn under above size.
We made this pattern for person who from the above sizes.
Also this pattern come with 1/10 size. You don't have to count amount of
material.
Just line up inside of 1/10 size and you can figure how much you need material.
This paper pattern is download date.
You have to install an Adobe Readeror.
This software is cost free.
You can make those costume below the list.
Haruhi Suzumiya.
Mikuru Asahina.
Yuki Nagato.
-----------------------------------------
With this paper pattern, you can also obtain the pleasure to make clothes with
your new costume!
You'll get a 303.5KB .PDF file.
More products from Usako