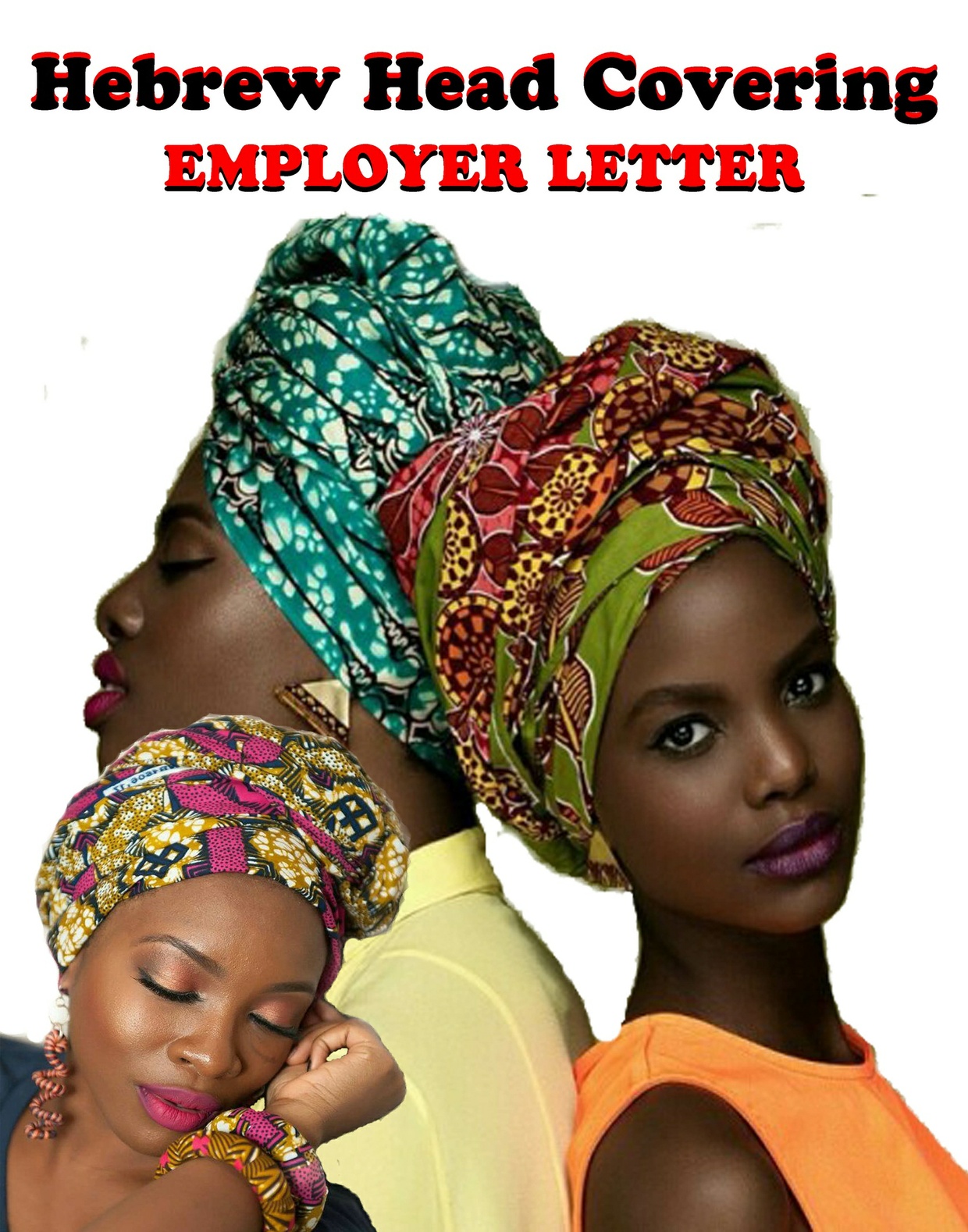 Hebrew Helping Hand Ministry (Head Covering Letter) Word Document!
The Hebrew Helping Hand Ministry is very happy to have the opportunity to offer to our members and other followers of scripture nationally as well as internationally where the laws apply, a head covering Letter to present to their employers or place of business concerning this important issue.

As followers of scripture, the Torah (HEBREW LAW) requires our women to cover their heads during the course of the day and as they pray or prophecy with others and (1-Corinthians 11:3-5) makes it clear that we are to follow this command as followers forever.

This letter will empower you with scripture as well as constitutional protection that protects us all.

The First Amendment: In the United States, the religious civil liberties are guaranteed by the First Amendment to the United States Constitution:

Congress shall make no law respecting an establishment of religion, or prohibiting the free exercise thereof; or abridging the freedom of speech, or of the press, or the right of the people peaceably to assemble and to petition the Government for a redress of grievances.

The Fourteenth Amendment: The Fourteenth Amendment to the United States Constitution guarantees the religious civil rights. Whereas the First Amendment secures the free exercise of religion, section one of the Fourteenth Amendment prohibits discrimination, including on the basis of religion, by securing "the equal protection of the laws" for every person:

All persons born or naturalized in the United States, and subject to the jurisdiction thereof, are citizens of the United States and of the State wherein they reside.

No state shall make or enforce any law which shall abridge the privileges or immunities of citizens of the United States; nor shall any State deprive any person of life, liberty, or property, without due process of law; nor deny to any person within its jurisdiction the equal protection of the laws.

The Hebrew Helping Hand Ministry, pray that everyone takes advantage of the utilization of this powerful tool that's needed these days to protect our Religious and spiritual Freedoms that are protected under the Constitutional Laws of the United States of America. This letter is very EFFECTIVE and is currently being used successfully in four states.

This is a (Word Document File) that you will be able to add your Name then PRINT Immediately!



Shalom!
You'll get a 70.5KB .DOCX file.
More products from Hebrew Helping Hand Ministry