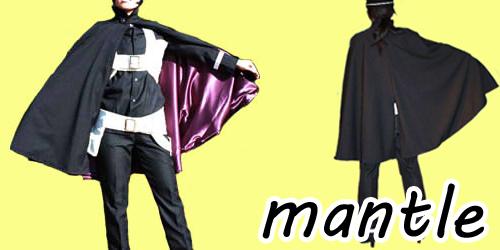 mantle (Paper pattern)
Sewing Pattern, Mantle
The paper pattern of the mantle was made. The mantle of which figure streamed gently in the wind looks impressive.
Because it does not have gathers around the neck, You can make a neat mantle.
This type of mantle is often used by the Japanese animated cartoon and comics that assumed the Meiji era the stage.
It flows when you receive wind so as to be comfortable.
If you make it with light cloth, it will flatter your cool motion when you move.
*
This paper pattern is only for a mantle.
A jacket and the pants are not included.
This paper pattern is download date.
You have to install an Adobe Reader or.
This software is cost free.
* Please test these data before the purchase by all means.
http://dp59092518.lolipop.jp/downlord/accessorys/etc/tebukuro/tebukuro.pdf
This pattern already has a base for sewing base.
the way you are not going to mistake and finished up making smaller.
Also pattern has illustration of which parts, it is really easy to make.
Size
Size1 Bust 72~78cm Waist 58~64cm Hip 82~90cm Height 152cm
Size2 Bust 79~87cm Waist 64~70cm Hip 87~95cm Height 158cm
Size3 Bust 86~94cm Waist 69~77cm Hip 97~105cm Height 163cm
About print out
If 106% print = 6cm bust size up 
96% print = 6cm bust size down.
Can be worn under above size.
We made this pattern for a person who from the above sizes.
Also this pattern come with 1/10 size. You don't have to count amount of material.
Just line up inside of 1/10 size and you can figure how much you need material.
-----------------------------------------
With this paper pattern, you can also obtain the pleasure to make clothes with your new costume!
*******************************************
How to make a mantle
With illustration goes to
http://yousai.net/english/howto/mantl/index.htm
You'll get a 310.8KB .PDF file.
More products from Usako