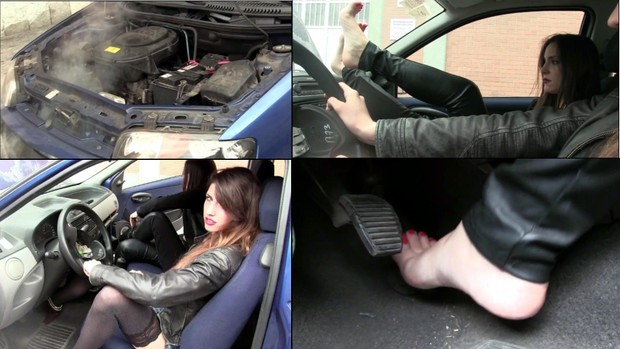 160 : Miss Iris & Miss Black Mamba kill the engine of the Fiat Punto
This is the right car, isn't it? They started up yet for us!"
Miss Iris asks Miss Black Mamba.

"Yes!"  Replies Miss Black Mamba.

This is just the beginning of a long and hard revving video starring the two misses and the Fiat Punto!

They both want to see some smoke coming out from the engine bay, but in order to make them happy, they have to rev the engine!

So Iris starts revving the engine hard, really really hard. As soon as she gets in the car, she push the pedal to the floor and she keeps that there while the engine begs her to stop! She feels so happy to dominate the power of the engine! Then it's time for Miss Black Mamba to show how powerful are her feet! But she is second to none!

From now on it's a long video with a mix of sexy faces, hard revving and pedal pumping!

They both want to destroy the engine so hard, that they try in every possible way to do that!

They pump the accelerator hard or slow, with or without shoes, looking at the temperature gauge as it is rising.

Are you ready for all of this?
You'll get 1 file (593.5MB)