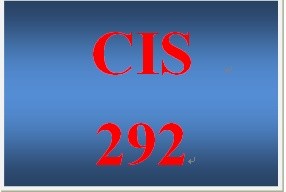 CIS 292 Week 5 Individual Operating System Portfolio – Information Security Business Proposal Final
CIS 292 Entire Course Link 
https://uopcourses.com/category/cis-292/
CIS 292 Week 5 Individual: Operating System Portfolio – Information Security Business Proposal Final
You are an IT Security consultant and are putting together a proposal presentation for a perspective customer. The organization is a small company that has grown rapidly. Using both Windows® and Mac® laptops, they don't yet understand the value of information security, the potential effects it has on their company, or ways to protect their employee computers from attacks.
Based on your Week Five Learning Team collaborative discussion, 
create
 an 8- to 12-slide Microsoft® PowerPoint
®
 presentation that would be used to conduct a business proposal to the company in the scenario above explaining the benefits and applications of information security. Simply submitting slides is NOT sufficient. You can either (1) record your voice over the presentation and submit the file, or (2) include detailed speaker notes for each slide with a transcript of what you would say.
Address
 all of the following key points at a minimum:


A brief overview of information security and how it can impact the company


Potential threats and business impacts


Benefits of a strong company security posture


Built-in operating system tools for both Windows and Mac systems that can help them maintain a secure computing environment


Compile
 all sections of the Support Portfolio. Update, if necessary, based on feedback from previous weeks. This should include all parts of the portfolio from Weeks Two through Five.
Create
 an introductory paragraph outlining the portfolio's contents.
Submit
 your finalized portfolio to the Assignment Files tab.
You'll get 1 file (936.7KB)
More products from UopTutorialStore