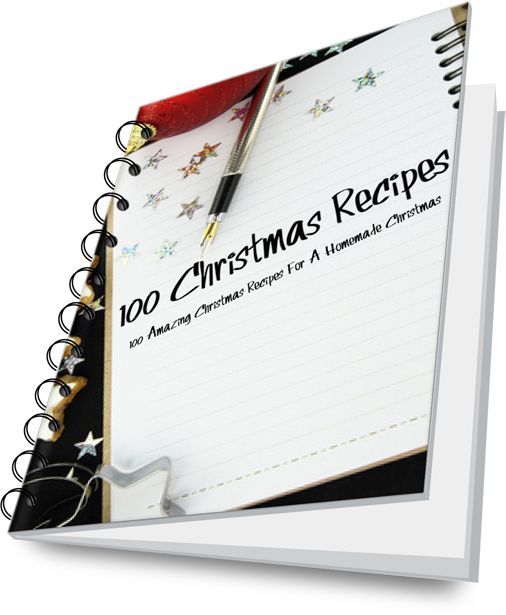 100 Christmas Recipes (Personal Use Rights Only)
Who Else Wants To Enjoy The Holidays With Good Food And Most Importantly NO STRESS!

Finally A Solution To Your Biggest Problems At The Most Hectic Time Of The Year!

Have you ever felt the stress and frustration of realizing that you have only 24 hours to prepare (from scratch) for all your family and friends especially for Christmas?

It's even worse if you have over 20 people coming.

Holiday dinners are not just another meal, they are an event. The holidays are a magical time when friends and family get together to share a richly laden table.

A carefully thought out holiday dinner will be remembered for years to come. A lot of kitchens are busy days in advance of the holidays preparing for that one special day of the year.

Planning your perfect holiday menu can be the hardest part of the preparations.

Having a great selection of recipes, like those in "100 Christmas Recipes" Book is essential.

Bring back memories of holidays past more than the smells that emanate from the kitchen during the holidays. The smells of cookies, candies, and main dishes that are only made during the holidays.

Give your family and friends great memories that will be cherished for years to come. "100 Christmas Recipes" Book can make this a special holiday season.

Available in PDF. This recipe book is for the personal use of the buyer only. It can not be resold.

Note:

This product comes with NO warranty or guarantee of any kind.

The author and distributor hereby disclaim all liability for the use of this product. You accept all responsibility by using/selling it.

You'll get a 394.4KB .PDF file.
More products from Smart Life Skills