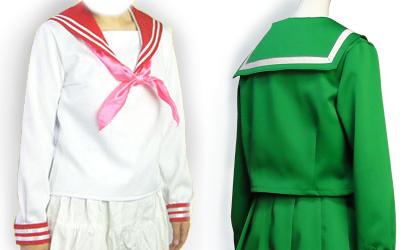 Sawing Pattern for Sailor Blouse
Most Japanese anime high school outfits are a sailor outfit!
This paper pattern is DOWNLOAD Data.
You have to install the Zip software (archiver) and an Adobe Reader.
Both software is cost free.
* Please test these data before the purchase by all means.
http://yousai.net/downloads/komono/marumati.zip
This pattern can be used for casual clothing , gothic lolita etc. Many kinds of Cosplay.
This pattern is the most popular one always in Top 10.
Also, this pattern already has a base for sewing base. The way you are not going to mistake and finished up making smaller.
Also pattern has illustration of which parts, it is really easy to make.
You can make many different anime outfit as long as sailor style.
Also you can arrange adding lace and make it lolita style blouse.
Size: Bust 79~87cm Waist 64~70cm Hip 87~95cm Height 158cm
We made this pattern for person who from the above sizes.
Please make prints on paper of the A4 size
How to make sailor blouse
With illustration go to
http://yousai.net/nui/eri/nui/waki1.htm
You'll get a 454.9KB .PDF file.
More products from Usako