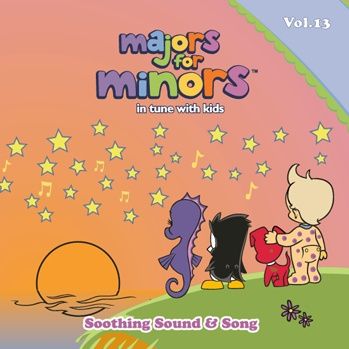 Vol 13 - Soothing Sound and Song
Majors for Minors proudly presents another FIRST in child audio stimuli by offering a compilation of children's songs with a difference. Traditionally all our CD's are designed both to assist children to focus and to have a calming effect on them by using carefully selected sounds and frequencies within a classically styled medium. Soothing Sound & Song expands on this successful formula by adding SOOTHING VOICES with CELTIC INFLUENCES as well as TIBETAN BOWLS, FILTERED SWEEP, PINK NOISE, BELOW AVERAGE HEARTBEAT TEMPO'S & SOUND FREQUENCIES - all designed to calm. There sounds have been added to our usual array of orchestral instruments - strings, woodwinds and reeds. These twelve beautiful tracks include re-arrangments of well-known nursery rhymes and our own original songs composed with beautiful melodies and touching lyrics. Majors for Minors Soothing Sound & Song, through the incorporation of passive music stimulation, offers a relaxing and positive musical experience for babies, children and their parents.
You'll get a 53.9MB .ZIP file.
More products from Majors for Minors